Football Summit 2019: Looking ahead to the FIFA Women's World Cup in France
In an exclusive conversation with FIFA TV and its appointed host broadcaster HBS on preparations for one of this summer's main events, the FIFA Women's World Cup, attendees to SVG Europe's Football Summit 2019 found out more about the technology and production plans for the tournament.
Florin Mitu, head of host broadcast production at FIFA TV, and Stefan Wistuba, host broadcaster project leader at HBS, spoke with SVG's Ken Kerschbaumer about what they have planned for the FIFA Women's World Cup, which runs from 7 June to 7 July in France.
The tournament has been running every four years since 1991 when the first Women's World Cup was held in China, and subsequently won by the US team.
This one in France will be the eighth, with 52 matches to be played over 31 days within nine host cities and nine stadia in total. The semi-final and final will be played at a new stadium in Lyon that was opened just before the 2016 Men's European Championships. At the time of the Football Summit, 500,000 tickets were already sold, with an expectation of one million to be sold by the time the event kicks off.
Growing in popularity
The 2019 event is larger than ever; the Trophy tour is currently underway, arriving back in Paris on 2 May after visiting all 24 participating countries. Teams from South Africa, Scotland, Jamaica and Chile are playing for the first time ever in this edition of the Women's World Cup.
Mitu commented: "In terms of TV coverage we have quite an ambitious objective, as you may have heard. We are trying – hoping, finger crossing – to reach one billion unique viewers for this Women's World Cup. The trend has been going in this direction ever since Germany 2011, while in terms of production, the evolution of the HD era from Germany 2011 to France 2019, we went through 1080i and 4×3 to finally being full 16×9 this year around with UHD, with SDR and 1080p as a second output. Audio-wise we stay on Dolby 5:1. The world feed, same as last time, will be uplinked in HD 1080i. We will be going for 21 cameras for the standard group match, up to 26 for the semis and the final, plus maybe one more."
The IBC is sited at Paris Expo, Porte de Versailles. As to the broadcasters at the IBC, Mitu stated, "there will be seven this time around compared to five last time and only two in Frankfurt". He added: "The interest in this competition from a media rights point of view is increasing year by year, so we're very happy to see the seven joining us in Paris this summer."
HBS is using around 5,000 square metres of the IBC, which was previously used for the Euros.
Wistuba said the bigger broadcasters are building studios outside of the IBC within Paris during the month of the event; Fox is going to base itself at the Trocadéro, and Telemundo near the Arc de Triomphe de l'Étoile. Other broadcasters will be based inside the stadiums, including the BBC and new to the Women's World Cup, CCTV. Said Wistuba: "Broadcasters will use the IBC as a technical turnaround hub rather than having studios as such there."
Maxing out FIFA Max
In terms of content on the FIFA Media Asset Exchange (MAX) Server, Mitu said FIFA TV is dramatically increasing the footage available to media rights licensees on it for this event. In part this is being generated by the number of FIFA TV film crews, which are going up to 24 from just six for the previous Women's World Cup.
Mitu explained: "There will be a team crew following every single team in the competition, actually staying with them, travelling with them, eating with them, doing everything that they do, so there will be hardly any moment of the experience missed and the footage will obviously be made available to the media rights holder licenses. Last time we had six crews, one for every single city, which meant we couldn't follow every team all the time."
One big innovation on the FIFA Max server is the content, which, Wistuba said, will be available both onsite at the IBC and offsite completely as well, for, "full access everywhere, basically giving broadcasters the full flexibility to create their shows".
He added: "I think we have to go with the flow on that side; not everybody has the luxury and chance to be onsite, so this is definitely bringing the content out to all the broadcasters all over the world."
Added Mitu: "This is one of the key messages that we kept hearing following the men's World Cup in Russia; broadcasters would like to be more independent and be allowed to receive the footage at their headquarters back home, as if they were in the IBC, so we took that on board and we are launching that this time around with the Women's World Cup."
Wealth of content
FIFA Films is providing a wealth of pre-event content, including an eight episode TV series to be made available to media rights holder licenses between 27 March and 15 April, as well as promotional trailers, trophy tour edits made available at the end of the competition, an on screen design package, the 'Hero's' programme, and 60-plus classic clips made from FIFA TV's comprehensive archive in Zurich. Also, after the event the official 52 minute film will be made available, and 'The Nation's Story' film, a behind the scenes action programme of the winning team, based on the footage filmed by the film crews following each team from the beginning.
Added Mitu: "We increased in a lot of things, but the one thing we didn't change is we once again appointed HBS to produce the world feed, the IBC and everything else for the FIFA Women's World Cup."
Wistuba went on to explain the camera plan from HBS, which includes producing in UHD SDR for the first time. He noted that there would be a cable camera system for selected matches and the semi finals and finals, adding, "we're enhancing coverage as well with two Polecams behind the goal, which is something we introduced for the men's World Cup last year, which was very successful, so we'll get some spectacular images from that as well".
On top of that, for the first time HBS is looking to utilise aerial coverage as well for the majority of the matches, "both from a helicopter perspective and potentially from a drone as well, so that's something new," Wistuba said. "It's challenging; it's not easy to do in France, there's a lot of regulations on that side of things. That's something we're tying up in the next few weeks and we hope to get some additional images out there for the broadcasters who really need them to build their pre-show."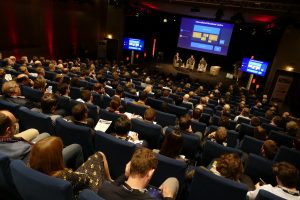 Social media is set to make a larger impact at the Women's World Cup than previously, Wistuba commented: "Based on what was introduced at the men's World Cup last year, we created multi-lateral B2B social media production, which worked very well and was very successful. This created content for broadcasters on a dedicated platform, with 360 degree videos, stills, infographics, and near-live videos as well, which the broadcasters can basically pull off the social media platform and publish in their channels.
"We're utilising artificial intelligence (AI)-generated content for this as well," Wistuba went on. "The AI-generated content for this is going to be used in three different forms: A) it's supplementing the FIFA Max on content; B) it's going to be used for creating dedicated clips for the social media content; C) we are offering broadcasters an interactive video widget which they can embed on their websites, enabling in principle the fans out there to create their own highlights via the widget, which is very exciting, so that's something new that's going to be launched."
So, get ready for kick off!