Football Summit 2023: Registration for Paris event to close on 14 March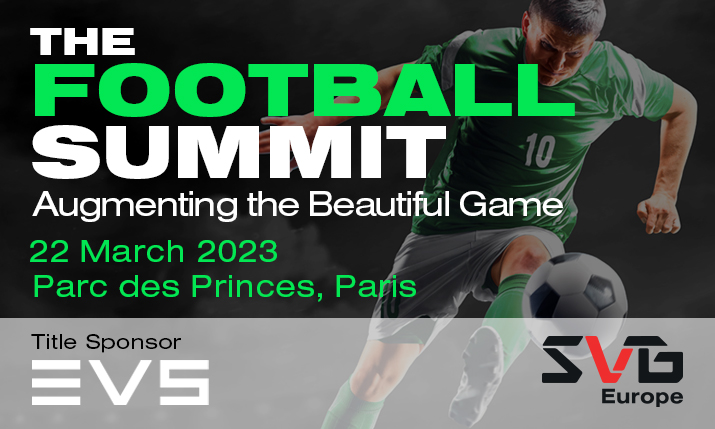 There are only a few days left to register for SVG Europe's Football Summit 2023, sponsored by EVS, taking place at Parc des Princes, Paris, on 22 March. Registration closes on 14 March.
The full-day event features an extensive conference programme welcoming big names from across European sports broadcasting and production, including representatives from Host Broadcast Services, Sky Deutschland, Mediapro, IMG, Manchester City, and RTL Belgium.
Topics to be debated on the day include advanced punditry and analysis, the art of directing, immersive audio and images, how broadcasters are attracting the next generation of football fans and innovation at European football leagues.
There will also be plenty of time for networking and attendees will be able to enjoy a tour of the stadium.
Confirmed speakers include
Laurent Lachand, Director
Sigrid Lelièvre, Director
Felix Krückels, Audio Engineer, Consultant and Academic
Christian Gobbel, Chief Technology Officer, HBS
Pablo Garcia, HDR Workflow Consultant and Image Supervisor, FIFA World Cup 2022
Lisa Fallon, High-Performance Football Development Consultant, Head Coach and Pundit
Sébastien Audoux, Former Host and Announcer, and outgoing Head of Sports Digital Content at Canal+
Peter van Dam, Chief Technology Officer, Saudi Sports Company
Ronald Meyvisch, Technology Consultant
Tom Blake, Commercial Director, Imagen
Tom Barnes, Vice President, IMG Replay
Jo Osborne, Executive Producer, Sky Sports
Alessandro Reitano, SVP of Sports Production, Sky Deutschland
Gavin Johnson, Group Media Director, City Football Group
Bruno De Roy, RTL Sport Production Manager, RTL Belgium
Philippe Oziol, Head of France Productions, HBS
Òscar Lago, Match Director, Mediapro
To find out more and to register, go to: https://www.svgeurope.org/football-summit-2023