Football Summit 2019: EVS heads full deck of sponsors as registration deadline looms
EVS EMEA senior vice president Marc Caeymaex will lead off SVG Europe's Football Summit in Paris on 28 February as Title Sponsor for the event.
The Football Summit will take place at Stade de France in Paris. Registration for the conference will close this Thursday, 14 February.
Along with the EVS Title Sponsorship, we are also very pleased to announce that Imagen has taken the Technology Case Study Presentation sponsorship.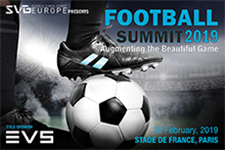 Vizrt is Session Sponsor for 'Football Graphics Showcase: How to create show-stopping AR'. The 'Coming to you in 3, 2, 1…A Match Directing Masterclass' session is sponsored by Slomo.tv. And our concluding 'Taking them all on: How 5G will simplify Remote Football Production' session is sponsored by LiveU.
Tabletop Sponsors for the event are Evertz, EVS, Imagen, Mobile Viewpoint, Panasonic Business, Sony and TVU Networks.
As with all SVG Europe events, there will be plenty of networking opportunities throughout the day. Delegates will also get the chance to take part in a guided tour of the Stade de France.
The Football Summit, sponsored by EVS, will take place at the Stade de France in Paris on Thursday 28 February 2019. For more information, and to register, visit https://www.svgeurope.org/football-summit-2019