Racing ahead: Inside F1's 2023 broadcast plans with director of broadcast and media Dean Locke
From more helmet cams to an overhauled remote production centre, the upcoming F1 season promises a raft of innovations. F1 director of broadcast and media Dean Locke provides an in-depth update on what's in store in 2023, including preparations for the Las Vegas Grand Prix.
When the first race of the 2023 Formula 1 season gets underway in Bahrain on Sunday 5 March, it will mark the beginning of what is likely to be another bumper year for the sport, with the largest ever round of races, a glitzy new weekend of action in Las Vegas and six Sprint races (up from three last year).
It's fair to say that the popularity of F1 is on the rise as well, with the 2022 F1 World Championship season the most-viewed ever on US television, with an average of 1.21 million viewers per race, up 28% on the previous record set in 2021, according to ESPN.
That increase in viewership is attributed at least in part to Drive to Survive, with season five of the Netflix fly-on-the-wall series debuting today (and season 6 in the pipeline). There is also an F1 movie directed by Top Gun: Maverick director Joseph Kosinski and starring Brad Pitt in the works and set to film over the course of this season at F1 races, all of which is likely to further boost interest in the motorsport.
"It is always incredibly difficult to get anything on a F1 car, no matter what it weighs, or what the power or the heat is."
With more racing, growing audiences and an increased thirst for content, it's fair to say that F1 director of broadcast and media Dean Locke and his team have been busy since the fall of the chequered flag in Abu Dhabi in November. The 2022 season ended a few weeks earlier than the 2021 Championship due to the World Cup, but that didn't mean a few weeks of downtime.
"I think everybody thought that that would mean we'd have a fairly quiet December, but it was the complete opposite," says Locke. "But we're up to the challenge. And it's not just F1; there are more races in F2 and F3, so people are always busy. And I think that's why I'm particularly proud; we don't just say, 'here you go, here are three new things,' and then not do anything new for the rest of the year. The rollouts are throughout the season at every single race."
Locke has the challenge of overseeing a continuous cycle of innovation in the way content is captured and presented on viewers' screens throughout the year, but one of the most significant changes this season is unlikely to be noticed by viewers. Between the end of last season and the start of 2023, there has been an upgrade to the F1 Media and Technology Centre at Biggin Hill, which is some 20-miles southeast of London.
"We've completely converted the building now to be a remote centre," says Locke. "The broadcast centre we had in Australia in 2020 was brought back here to Biggin Hill, and since then operated in the same way apart from it was in the hangar in Biggin Hill and wasn't a permanent structure, but we've done things like move the renderers and servers away from the operational positions.
"We started that at 6am after Abu Dhabi (the final race of the 2022 season). Kit was ripped out of containers and then put into permanent workspaces and a permanent CAR room. That's been going on all winter, and it's now ready and we've had test signals coming back from Bahrain."
One of the main benefits has been an improvement in the working environment, but it is also part of F1's sustainability initiative. At each race, an Event Technical Centre (pictured, below) is deployed onsite and acquires content, data and feeds which are sent back to Biggin Hill. That operation will continue to be used, but over time Locke expects the remote setup to result in fewer people and less kit as F1 works towards its plan to be net zero carbon by 2030.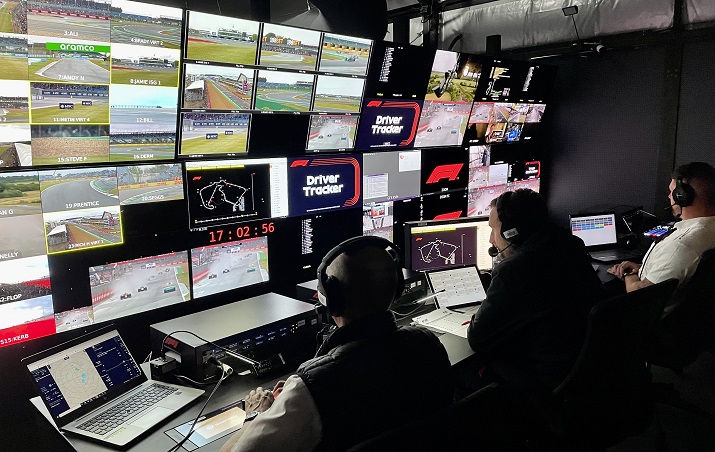 Speaking from F1's Biggin Hill base, Locke says: "This is more of a dedicated site now. It's a much better environment, with more capability to do more – it enables us to do a lot more of the handover and the hefty, heavy lifting.
"We also have a bit of an IP transition, like a lot of people in the industry. So part of the build at Biggin Hill was to facilitate over the next two to three years a big IP transition, and that will open up opportunities. Also, as we reach end of life on some of that kit, it raises the question of how we move that over to IP as well. One of the main things was to get all the fibre infrastructure into this building, and into the new CAR. And now we have to look at a roadmap for replacing some of that kit."
At each of the 23 locations around the world that will host races this season, the broadcast and media team's focus is on the acquisition of data, pictures, audio, along with some mixing of pictures. The main curation and production of the world feed and additional content for rights holders, as well as the F1 TV streaming services, is completed on race weekends at Biggin Hill where the main director and producers are based.
The build of a new full AR, dedicated studio for use by the F1 TV team, sponsors and broadcasters will see more content created at the Biggin Hill site. "The majority of the commentary is done here at Biggin Hill now, so we have dedicated commentary booths. We like to keep commentators on site some of the time, because they like to be there. But we will host various broadcasters' commentary here as well, potentially. And a couple of couple of the broadcasters want to do shows here from [the new studio], because it supports their sustainability aims as well," says Locke.
More helmet cams
Getting viewers closer to the action is a priority for all sports, and F1 is no different. Last season, there were four live helmet cameras during a race, from a possible choice of eight drivers. This year, however, it will be mandatory for all drivers to potentially carry a helmet camera, with six to eight live during a race weekend.
Last season also saw a return after 20-year absence of the pedal camera, with a camera placed in the footwell of a driver's car to provide an alternative view of a driver's environment.
"We were quite pleased with the feedback we had on the pedal shots," says Locke. "We've tasked the onboard camera team to look around the cockpit areas and bring some more visibility there, and we've tasked them with some elements around the rear light area as well. But it is always incredibly difficult to get anything on a F1 car, no matter what it weighs, or what the power or the heat is."
Audio upgrades
Locke says F1 is also looking at some audio upgrades, partly spurred on by the on-going popularity of Drive to Survive. "People are watching F1 in so many different ways, it's not just for a traditional broadcast, they're watching Drive to Survive on Netflix, and there is potentially a film being made this year as well, so people are watching in different way and their expectations of the audio of F1 are changing, so I think we need to meet those challenges.
"We're looking at various ways we can improve. We already do a 5.1 mix, but we are working with the broadcasters to make sure their commentary complements it and doesn't just crush the world feed audio, and we're looking at how we can have a better experience for our viewer just like they would hear it on Drive to Survive."
To address this, Locke and his team are looking at placing more mics around the track, for example alongside curb cameras and where cars are brushing walls, as well as in positions to capture more of the crowd atmosphere as well.
"There's huge interest in F1 and attending live events, so the crowd noise has got bigger over the years and in places like Austin and Mexico it just goes off when a driver like Perez comes around. I think we need to do more to bring that feeling of a live event to the viewer. Mics on the cars is another area where we've been doing a lot, but then we've got to get more audio channels off the car which creates a bottleneck."
GFX
Upgrades to the coverage of F1 are scheduled in quarters, with the first noticeable upgrade in Q1 likely to be a change to some of the graphics packages. "We ran a new graphics package last year and we're tweaking that with some new opening titles with drivers reacting to an LED installation. The aim of that is to get more out of the drivers and show their personalities."
During the off-season, one area that Locke and his team have examined is the best use of on-screen graphics and the potential for them to take up valuable on-screen real-estate.
"We've got a growing fan base, particularly in America where it has grown dramatically. So we can't take it for granted that everybody knows the dark arts of strategy in F1, so we need to consider how we can we tell that story really effectively. It's difficult, but we put a lot of attention in it over the winter period to do that and to make sure that we're not alienating the really entrenched fans while making sure we tell the right story."
One area where Locke is looking to make some improvements relates to the AR tagging of cars, with information about cars and 'elastic bands' to show the distances between vehicles. "It's quite easy to switch on a F1 race and see two Red Bulls and not immediately know who is in which car, so the onboard tagging has worked really well. I want to be able to do that from any angle, any camera or any system so we can see exactly who it is. So AR tagging is a big development area."
Later in the season – around the third quarter of the year, says Locke – there could also be the introduction of biometric graphics, subject to FIA approval.
Las Vegas Grand Prix
The addition of a weekend of racing around a street circuit in Las Vegas in November boost F1's profile in the US even further. With a new track comes new opportunities and Locke says he has been working closely with the F1 sporting team who are working with the track designers.
"We had some people out there in September, and I was out there in December, looking at various parts of it. We wouldn't be doing the job properly if we turned up and just covered the track and the cars. We've got to take in some of the iconic areas of Vegas and add that into the coverage.
"There are some quite technical challenges; they want to open all the gates to the circuit in the evening so all our fibre infrastructure will be open to traffic, for example. And there are a few technical issues around how we get cameras on top of buildings without putting fibre all the way up inside.
"We're a UHD broadcaster, so getting those live UHD signals, point-to-point, is a challenge and we have a lot of virtual systems as well, such as graphics, so there's a lot of technical challenges around making that race look the way it should look, and not like a car park," says Locke, referring to the Caesars Palace Grand Prix held in Las Vegas in the 1980s on a temporary circuit that some observers dubbed the 'Caesars Palace car park'.
"We're taking it really seriously to make sure that we capture that event in the right way, not just the racing and the race itself, but also to show the huge interest; there will be some big numbers attending in the hotels and the casinos or in the grandstands so we need to make sure we cover it the right way."
Rights holder relationships
One shift which might not be immediately obvious to viewers but should aid broadcasters' efforts in conveying the narrative of races is a change to the way the F1 team communicates with rights holders.
"We have some 70 broadcasters and 170 territories and very fast paced races, so how we communicate to them and make them aware of what we're doing is really important," says Locke, who points to the Japanese Grand Prix where Max Verstappen retained his F1 title amid confusion about penalties and points as an example of where clear communication was needed.
"It was a complicated Championship last year, and being able to communicate to our broadcasters really effectively and making sure their production teams are aware of what's happening is key, and we're building that out. We have a broadcast PA line which commentates on the broadcast and ensures broadcaster commentary teams are briefed. I think we're going to deliver that in a different way and have sort of some live chat going on with broadcasters as well to help them out."
Looking further ahead, Locke says there are things outside the world feed that could be provided to rights holders.  "We keep very close to our broadcast partners, because there's no point us going in a direction that they don't require, so we do talk to them a lot, and we had some workshops with them last year," says Locke.
"We're already delivering UHD, and we're already providing 5.1 audio, so in a lot of areas, we're hitting those targets. But if the viewer maybe wants to tailor their feed in the future, that might be something for us to offer, but we've got to be able to deliver that content in a consumable way to the broadcaster. We're listening to where broadcasters are going, what they want to do and what their viewers are requesting, as well, and hopefully we're able to stay one step ahead."
---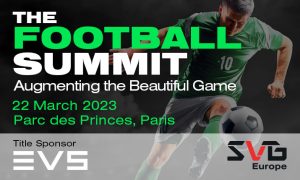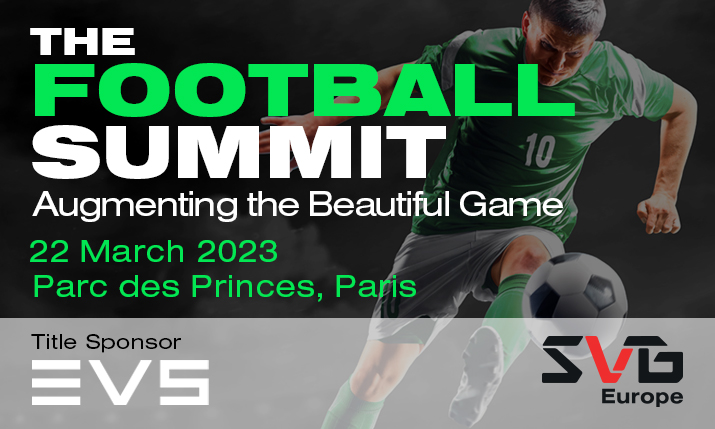 SVG Europe's Football Summit 2023 in Paris will explore production of the beautiful game, with topics including the art of directing, making coverage more immersive, creating content for clubs, advanced punditry and analysis and more. For more information on the 22 March event and to register click here
---