Four predictions for live sports video production and delivery in 2021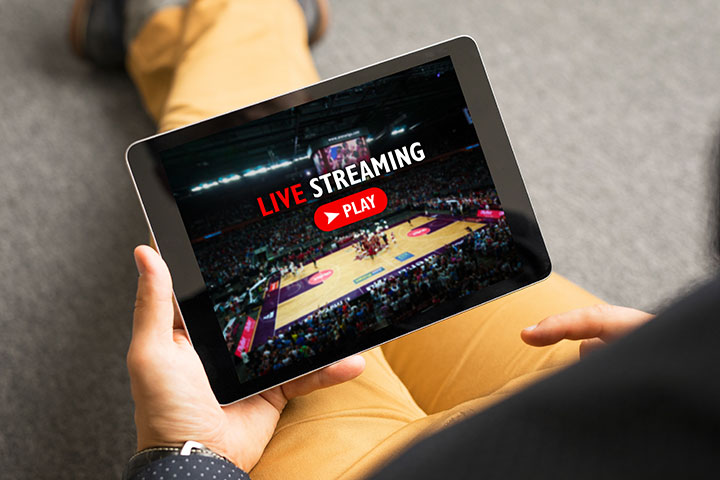 By Susanna Mandel-Mantello, VP and head of sales, sports and events, SES
To say that the COVID-19 pandemic has impacted the live sports market would be an understatement. In March 2020, live sports broadcasts came to an abrupt halt due to global lockdown restrictions, throwing sports fans into a tailspin.
Since then, live sports broadcasts have resumed again, but the sports market looks starkly different now than it did pre-COVID-19. Sports leagues are playing shortened seasons and there are either limited or no fans in-person, which has significantly altered the content production process and revenue for the broadcast industry.
Growing audience
Despite the circumstances, people still have a hunger for entertainment and live sports content, whether via streaming services or broadcast, especially given that they are unable to watch in person. In recent years, we've seen a rapid increase in online viewing of sports, which will only be accelerated in the post-COVID-19 world as the number of online streaming options grows given the demand from fans across the world. Linear TV is also attracting large sports audiences, as 50% of fans reportedly watch live sports via satellite or pay-TV subscription, according to Grabyo.
As broadcasters, pay-TV operators and content owners address the overall rise in demand for sports video content, a major challenge remains; how to deliver content in the most reliable and cost effective way possible.
What does all of this mean for 2021? Right now, live sports video production and delivery is at a crossroads. The COVID-19 pandemic has severely disrupted sports television revenues and the industry needs to evolve. Here are four predictions about how live sports broadcasting will change in 2021.
Remote production will be the new norm
The COVID-19 pandemic has halted international and domestic travel for many industries, including broadcast. As sports continue to be relaunched in 2021, live sports coverage will be produced with fewer people on the ground at stadiums. Rather than sending large crews to an event, broadcasters will have smaller crews on-site.
The majority of live sports production in 2021 will take place remotely from full production studios leveraging cloud-based solutions. The cloud simplifies all aspects of video production, including playout, encoding and delivery. Cloud also reduces the required amount of location-based infrastructure, decreasing the cost of live sports production.
IABM data found that cloud adoption in broadcast and media has accelerated significantly over the past six months, with 45% of respondents having already deployed some kind of cloud technology and 40% having plans to do so. This trend is likely to increase given the current COVID-19 situation, with the Tokyo Olympics serving as the first major event to use cloud technologies on a large scale. Instead of having a full production staff on site, the event will be managed remotely via the cloud, setting the benchmark for the future of remote production.
Live sports will become increasingly personalised
Next year will see the reincarnation of sports and a greater push for solutions that enable better fan engagement and personalisation. Sports fans will become more prominent in the minds of broadcasters and service providers, and central to their thinking around live sports broadcasts.
One of the ways broadcasters and service providers can personalise live sports streaming is by leveraging big data to provide complementary content. Sports federations such as IndyCar are offering advanced mobile apps where viewers can see data about the driver, the driving team, related content on social media, podcasts and even weather predictions from the tracks.
Personalised advertising during live sports streaming will also pick up steam in 2021. Content providers can insert personalised ads in the video stream itself or as overlaid graphics to boost video streaming monetisation. In fact, sports fans are in favour of personalised content and ads. A recent report from Verizon Media found that 86% of sports fans expect streaming services to offer a different ad experience, with 29% wanting more personalised advertising and offers.
Hybrid delivery will be key to broadcasting live sports
It's incredibly difficult for broadcasters and service providers to achieve audience loyalty today, when there are so many different ways to watch content. Audience fragmentation is a real challenge facing the sports broadcast industry, and the solution is to adopt a hybrid live sports delivery model. Hybrid delivery of live sports via satellite, fibre and IP transmissions not only ensures that content is available on all devices, it makes the distribution method for content nearly undistinguishable for viewers. Service providers can switch between OTT and traditional broadcast delivery methods to optimise distribution costs and ensure a seamless experience for sports fans. In 2021, will also see a steady rise of new delivery methods, such as 5G broadcasting, that will require a hybrid approach to ensure successful transmission of live events.
4K UHD will gain traction
4K content is still few and far between, and even cameras for live events are often upscaled and not true 4K. However, in 2021, there are several large sports events that will be produced in 4K, and these events will pave the way for demand for 4K UHD sports experiences. That's exciting because, to date, the 4K video market has not reached maturity due to a number of different factors. One reason is low consumer adoption of the technology. According to Omdia, 52% of US homes have a 4K TV, with Western European households at 38%, and it will take another two years before ownership passes the 50% mark in Western Europe. As 4K conversation continues, the industry should be prepared for the changes ahead.
Conclusion
The COVID-19 pandemic has not been easy to endure for the sports broadcast market, but as live events start to ramp up again we are learning that there are opportunities for growth. Broadcasters and service providers can boost fan engagement and revenues by providing personalised live sports content in 4K UHD. They can reach more fans and devices, while optimising distribution costs with hybrid distribution. Remote production is expected to continue in 2021, but thankfully there are plenty of full-service facilities available to simplify the process. As a leader in live sports production and delivery services, at SES, we are in a position to help broadcasters and service providers successfully address these evolutions.