Fox Sports' Mike Davies elected as chair of Sports Video Group USA
Mike Davies, SVP, technical and field operations, Fox Sports, has been elected as chair of Sports Video Group USA. He will succeed Tom Sahara, VP, operations and technology, Turner Sports, for a three-year term that begins following the 2019 NAB Convention in Las Vegas.
"With esteemed pleasure, I congratulate the next SVG USA Advisory Board chairman, Mike Davies,"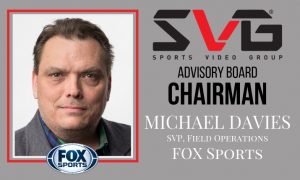 said Sahara. "Leading Fox Sports technical and field-operations teams, Mike has established himself as an innovator and global visionary. The success of Fox Sports' coverage of the World Cup from Russia and 5G tests at the US Open demonstrates his vision and spirit, 'the right stuff' that is needed to lead the SVG into the future. Please join me in welcoming Mike, and I encourage each of you to get involved and help Mike make the SVG even better."
Said Davies, "It is a truly exciting time of innovation and transition in our industry, and I believe the SVG provides needed guidance to companies and networks as we explore the trends and possibilities. After being involved with this important group since its inception in 2006, I'm excited to help their mission in this role."
At Fox Sports, Davies manages all day-to-day aspects of live-broadcast operations and oversees integration of new and emerging technologies for the Fox Sports family of networks. With more than two decades of experience in sports television, he specialises in technical production and innovation for live coverage of major sports events.
He manages a highly talented team of individuals responsible for the thousands of live sports broadcasts yearly at Fox, including some of the biggest events in the world: multiple Super Bowls, FIFA World Cup, MLB Postseason, and the USGA U.S. Open.
In addition to technical design and oversight, Davies works within the Fox Sports Lab, a designed approach to exploring technical partnerships to enhance production capabilities and the consumer viewing experience as a whole across different platforms.
Before joining Fox Sports as director of field operations in 2006, Davies was with HBO Sports for 10 years. He has won multiple Sports Emmy Awards, including for technical-team remotes on NASCAR, FIFA, MLB, and NFL coverage and long-form sports programming.
Taking over as SVG USA Advisory Board chairman following the conclusion of the 2019 NAB Convention, he will serve until April 2022.