Fox Sports previews FIFA World Cup digital plans with plenty of video highlights
With the opening of the 2018 FIFA World Cup just days away, Fox Sports unveiled some of its specific plans on the digital side for its coverage of the tournament. Among the video highlights include a bevy of bonus feeds during live matches and an interactive Highlight Machine that promise to make this World Cup as interactive as the event has ever been in the United States.
Fox Sports' Highlight Machine invites Web and mobile visitors to create and share custom highlight reels from past and current matches during this summer's FIFA World Cup.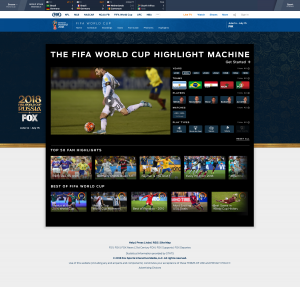 All 64 matches, naturally, will be live streamed, with the online experience centered around a Match Center interface that features a landing place for bonus feeds (more on those in a moment), commentary, highlights, stats, etc.
"Soccer fans and casual viewers alike will be delighted by our World Cup executions across the FOX Sports apps and FOXSports.com," David Wertheimer, President, Digital Products for Fox Networks Group, Digital Consumer Group said in an official release. "Just like our broadcasts, FOX Sports digital products provide unprecedented access — getting viewers closer and deeper into the action."
Fans should have a lot of fun with the new Highlight Machine which will place real-time highlights and historic World Cup clips at the user's fingertips for their own video clipping and sharing. According to Fox Sports, users can create their own highlight reel through cognitive highlight and AI technology. Fan-generated clips will be easier sharable to all major social media platforms. The platform is developed in partnership with IBM and is sponsored by adidas.
As for those live match bonus feeds, Fox is planning to offer up team-specific channels, a behind-the-scenes peek at a match up to two-hours prior to a match (its called Match 360 and was first debuted on select matches of the 2015 FIFA Women's World Cup), plus isolated tactical (all-11) and Cable Cam angles.