French football league deploys Intel True View for PSG vs Lyon clash in Paris
Technology to be rolled out to Marseille and Lyon later this season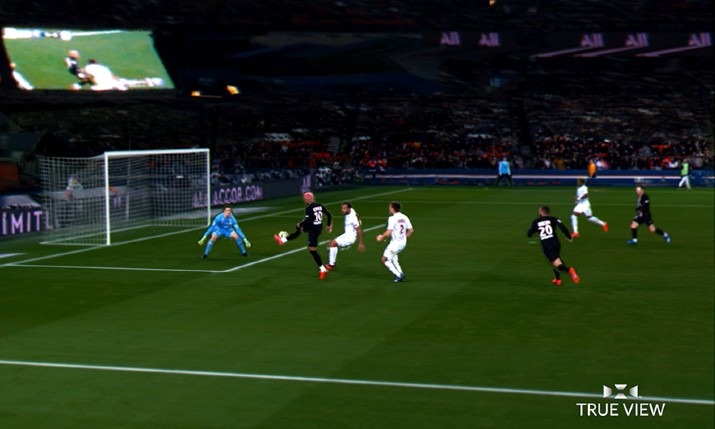 France's Ligue de Football Professionnel (LFP) used last weekend's Ligue 1 game between Paris Saint-Germain (PSG) and Olympique Lyonnais to deploy the True View immersive viewing experience for the first time.
True View, developed by Intel, allows a broadcaster to replay and freeze sporting action from various angles by creating a 360-degree volumetric version of the match using 5K cameras positioned around the pitch.
The installation, at the Parc des Princes in Paris, provided replays for Canal+ that were shown to viewers during live coverage of the match on Sunday evening (9 February 2020).
LFP is also making the viewing experience available on its MyLigue streaming platform.
Didier Quillot, executive director-general of the PFL, discussing the deployment, said: "In terms of audiovisual production, the LFP wishes to bring fans an ever more immersive dimension of the stadium and the game. Thanks to the deployment of Intel's True View system, we are pleased to be able to make available to all broadcasters of Ligue 1 a unique technology to revive the highlights of matches. "
Following on from the installation at the Parc de Princes, True View will also be made available in two other LPF stadiums this season, the Stade Vélodrome in Marseille and the Parc Olympique Lyonnais.
Howard Wright, vice president, Intel Capital Global Business Development lead, Intel Sports, added: "Our goal at Intel is to provide the world's most iconic leagues with innovations that deliver truly immersive multimedia experiences. We are particularly pleased to partner with the LFP to implement and extend "Intel True View" in one of the best football leagues in the world.
"The combination of iconic Ligue 1 players and teams combined with Intel's high-end digital art, will create a catalogue of indelible and immersive experiences for football fans around the world. "
True View has already been used and installed at various football clubs, including Arsenal, Liverpool and Manchester City in England, as well as in Spain's LaLiga and on the NFL, NBA, MLB and at PyeongChang 2018.
Using as many as 38 5K cameras installed in a ring around a sporting venue, the True View system capture volumetric video that is then processed through Intel Xeon processor-based servers, Intel Core processor-powered PCs, and Intel True View in order to render 360-degree replays, freeze frames and other alternative views of important or controversial sporting action.