Fulham FC chooses Enabledware and Blackmagic Designs for new broadcast studio
Fulham Football Club turned to provider of broadcast, production and IPTV services Enabledware to help it create its own content for two new display screens at the ground. Craven Cottage has been the home of the London-based Championship club for more than a century, yet with the installation of two LED scoreboard displays at either end of the 25,700 capacity stadium, it needed to step up its game with the expansion of its content production.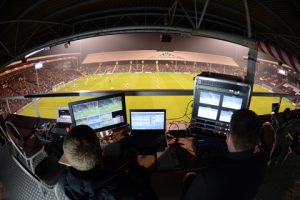 Fulham FC turned to Enabledware to design and deliver an IPTV and broadcast studio installation that would enhance match coverage and give fans vital facts and match statistics in a single glance.
Speaking to SVG Europe, Jody Frost, director EMEA, Enabledware, commented: "I think what won it for us was Fulham FC liked the idea of being on a single platform; we have one platform driving the scoreboard screens, the concourse screens, the suites and the food and beverage screens. We also integrate with Opta, which pretty much has the market for sports data."
"We knew that expanding the capacity for stadium-based content would require not only an intelligent software solution, that would bring live stats and scoring to life, but also a high-quality broadcast system, that would allow fans to experience the match fully, no matter where they are in the stadium," he added.
The system has evolved to become a three studio solution, built around Blackmagic Design broadcast workflows, with each delivering an individual strand of content production. The first studio looks after the scoreboard system, which is developed around Enabledware's Venue IP and Broadcast software, and takes graphics, analytics, match scores and statistics as well as live action video from the match, and delivers this into a unique mix for the big screens.
The second is a full HD television studio for the club to produce its own, supplementary pitch camera coverage, along with instant replays, and the third contains a full streaming solution. Enabledware chose to use Blackmagic Design because it knows its products work, they are modular and also cost-effective. Explained Frost: "We've done quite a few studios now and we always look at what's happening in the market and what's best for the customer, and time and time again, Blackmagic is right. It offers a very feature rich system at an affordable price point, and it's modular. There are some solutions out there that you buy in a single box, which is great until something goes wrong. With Blackmagic, we build the system in a modular fashion so if something goes wrong we can work around it, which is vital for clubs like Fulham."
Enabledware manages the entire system for Fulham FC, as well as staffing the match and event day crews with teams of multi-skilled operatives. Said Frost: "We take the headache away from them."
Enhancements have also been made to the camera coverage at the stadium. Frost said: "Currently, match coverage by the English Championship is via a single camera solution, so we wanted to be able to enhance this and give fans a closer view of goals, tackles and replays from different angles. So we've complemented this with an additional two cameras on the gantries and pitch-side, which feed into our ATEM 1 M/E Production Studio 4K to produce a full programme mix for all of our screens throughout the stadium, in concourse areas as well as big screen content."
The mixer's keyers and overlays are important features for the production team, for example, allowing sponsors' logos or frames to be overlaid on crowd shots in between the match action.
Three HyperDeck broadcast decks capture the ISO feeds and these, alongside slow motion kit, feed into a standalone 'replay rack', which can also be taken into the scoreboard feed. An additional analysis camera is used to track player performance. This feed is sent to Fulham head coach's office on the opposite side of the stadium via fibre converters for statistical analysis and review at the end of each half of the match.
Frost expects that all of the studios' content will evolve over time, especially if promotion becomes a possibility, but Fulham's streaming service will remain a key focus. As with several other Championship clubs, Fulham has the option to stream games that will not be shown by broadcasters, and distribute these to its international fan base.
"This is not only a viable revenue stream for these clubs, but it's also a really important way of helping fans further afield feel more engaged with the club community. Football fans have an expectation to view HD footage and high-quality match production, all of which have to be delivered at an exceptional price point," said Frost. "We'll be expanding this in the future to include additional content such as interviews with players and pundits and building upon the programme around each fixture, and Blackmagic's production capabilities will be a critical element for our future plans."
He concluded: "OTT has to be about fan engagement, keeping them entertained and informed. Streaming services OTT absolutely will continue to grow."