Futuresource report: The consumer world of 360 video capture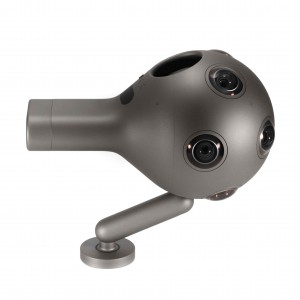 2016 has seen the launch of lower cost virtual reality (VR) headsets and the availability of 360 video experiences without headsets on sites like Youtube and Facebook. This is creating a heightened interest in 360 video capture. Initially VR capture was made possible only with high end professional cameras like the Nokia Ozo, at a cost of 60,000 USD, a figure that the average consumer purse strings could not afford. However there are more affordable 360 camera devices coming to market. It is therefore not surprising that interest within the consumer 360-degree camera segment has grown considerably.
Consumers are seeing new launches of premium devices such as the Kodak SP360 4K, 360fly 4K, Nikon KeyMission, Samsung Gear 360, Vuze 3D 360, and more affordable entry-level consumer models from Ricoh (Theta), LG (360) and C-list brands (<$100). There are also many more, less established companies looking to secure investment to develop new 360 cameras via crowd funding sites like Kickstarter. The range of 360-degree camera form factors has also widened from the initial mountable and handheld models to throwable and aerial drones.
Futuresource expects the vast majority of demand for single-unit 360-degree cameras, e.g. Kodak SP360 to be driven by consumers, initially early adopters and sports enthusiasts. Increased competition throughout the forecast period should see prices fall and lead to rising demand from casual users, similar to the trend with traditional action cameras e.g. GoPro Hero4.
150k 360-degree camera units were sold worldwide in 2015 (1% of total action cameras). In 2016, growth has accelerated following the launch of new models and developments within VR. Futuresource expects 0.6m units to ship globally this year (out of total 9.8m action cameras), of which North America will account for almost half.
It's still relatively early days for the 360 segment and there are some limitations, such as the quality/resolution of the video and issues with video/content stitching, particularly with the low-end models, although these issues are likely to be addressed moving forward. While volumes will remain comparatively niche in the short term, the longer term outlook for 360 degree cameras is positive, accounting for 34% of the overall action camera market by 2020, 4 million 360-degree cameras.
User-generated content for VR is set to fuel growth in 360-degree cameras. YouTube and Facebook are the key platforms for 360 video activity, allowing users to view content without a dedicated headset, although a more immersive experience (audio and visual) is capable with a headset (e.g. Samsung Gear VR).
Despite smartphones being the most convenient device for casual photography, demand for certain dedicated image capture devices, such as action cameras, remains steady as consumers see the benefit of wearable/mountable, hands-free capture.
In terms of the Futuresource analysis of the 360-degree action camera market it only includes single-unit devices in its definition of consumer 360-degree cameras (e.g. Samsung Gear 360), typically retailing for <$1,000 as opposed to a 360 rig setup using traditional action cameras or high-end professional devices (e.g. Nokia Ozo). The professional 360 camera numbers are in a forthcoming Virtual Reality market report.