FutureSport 2017: New balls please – all change for Wimbledon 2018 Championship
The opening session for FutureSport 2017 at The Kia Oval in London, attended by over 300 sports TV professionals, provided an exclusive first-look at the TV coverage approach to next year's Wimbledon Championship as the All-England Lawn Tennis Club (AELTC) transitions from its decades-long relationship with BBC Sport as Host Broadcaster to a brand new era led by its own in-house Wimbledon Broadcast Services (WBS) team.
The session, 'Wimbledon 2018 Preview: All Change in SW19' was moderated by SVG Europe David Davies and presented by Paul Davies, AELTC – WBS Head of Broadcast & Production; Bethan Evans, AELTC – WBS Broadcast Manager; and Tom Giles, AELTC – WBS Broadcast Technical Manager. Together they provided numerous insights into the evolving relationship with the BBC as well as 200 other relationships with broadcast and media clients around the world.
Although the BBC will retain exclusive live broadcast rights in the UK, the financial burden and final decisions on content and access to that content will now reside with WBS. The panellists discussed the current redevelopment of Wimbledon's broadcasting facilities and the impact of the changes for viewers worldwide, including 4K and HDR coverage in the future.
David Davies began by asking a very simple question: why do it at all? "I think for many governing bodies and rights holders it's no new thing to see host broadcasting being taken on board," said Paul Davies by way of explanation. "We've seen it happen very successfully at Formula 1, which is a fantastic example. European Tour Productions is another one that works incredibly well.
"We're now investing our own ambition, our own time and most importantly our own money," said Davies. "It's important to service our international clients as well as the domestic broadcaster, the BBC. We have 200 clients, all with different requirements, and we can serve them better as an in-house operation."
"There are seven building projects going on at the All-England Club," added Bethan Evans, "and if you
are there from the start you get into all of those conversations early – camera positions, possible studio locations, all of those things. To be embedded is a real benefit, to hopefully allow us to offer more to our rights-holding broadcasters. I think it's hugely beneficial to be part of the AELTC," said Evans.
"It also gives us an opportunity to join all our outputs — be it digital, OTT or broadcast – up together and hopefully produce a flatter offering, so that the guys from Facebook can get the same feeds as the BBC," said Tom Giles. "We've got six months to do that, rather than the traditional four-week window we have had in the past."
Building for 2018: foundations, levelling off and overlay
What was the timeline, asked David Davies: when was the decision taken and where are we now in terms of planning and construction?
"We made the decision early in 2016 and so have two Championships to prepare and put everything in place," said Paul Davies. "We had to look at what we would need in-house and what process we would have to go through to deliver it.
"Then we engaged in tender processes, [in which] we engaged a main outside broadcast supplier [NEP]. We wanted to raise the ambitions of the host broadcast operation in terms of full 18-court coverage. [We previously had nine manned courts and another six automated]. We could decide whether we wanted to do 4K or High Dynamic Range – that was under our control.
"We felt 2018 was the right year to do it: I would have been a bit nervous if we had to do it for 2017, just really in terms of the tender process and all the things within that – whether designing graphics set-up, engaging with the freelance market, hiring the best directors and so on," said Davies. "But now that we're in-house we don't have to play politics: we can engage the best tennis directors from ATP Media; we can work with our second major broadcaster ESPN and take their cameras out of Centre Court – they've always done their own cut in the past.
"Where we are now is that we've dug the foundations, we've levelled off for sure and we're starting to put it together, which is nice. NEP is not just doing the core coverage but the whole overlay within the broadcast centre," he said.
"We're working very closely with the IMG teams and all the distribution involved there. Every single detail is being looked at. We've got the right team in place and we have the support of the back-end of the Club. We're working in a place that can find a decent amount of money – and I'm talking about a multi-million-pound project – to develop the broadcast centre.
"One of the requirements of bringing it in-house was to be able to bring IMG up from the basement and have the BBC and All-England Club requirements all at the same level. That required a construction period, which is underway at the moment," said Davies.
"Basic construction is due to finish at the end of March — two galleries, a feeds-in feeds-out transmission space, a load of edit suites, and our digital offering," said Giles. "That should all be completed for the overlay from NEP to begin somewhere around May."
Bethan Evans added: "What we're trying to do is make the space more fit-for-purpose. We pretty much had two MCRs running before, with IMG downstairs, and there was a lot of duplication there. We've knocked through those walls to provide a space big enough to do one central MCR, which is a huge advantage to us."
"Year on year we're asking broadcasters for more money for the rights, and I think we are all deep believers that we need to give more back," remarked Davies. "Not just in terms of facilities but also options – for instance if a broadcaster wants to go entirely to remote production, or if they want a beauty camera for just half an hour. Things they can't really do at the moment."
UK coverage with Sue Barker and the commentary team
The WBS speakers said that the transitioning relationship with BBC Sport Head of Production Paula Stringer and her team has been really positive and UK viewers can expect to see lead anchor Sue Barker and the familiar BBC host commentary team back on air in 2018. WBS is planning to provide more flexibility in its offering to other clients from next year, including a brand new relationship to provide automated coverage of outside courts at the Championship.
"We did do six automated courts in the past with robotic cameras based on Hawkeye ball-tracking – which was a very efficient way of delivering those outside courts with decent quality and commentary," said Davies. "NEP will have 11 courts with manned cameras, effectively, and then we [put out to tender a new] contract for seven automated courts. We had some fantastic pitches, and we've chosen to go with an NEP combined solution with Fletcher.
"This is a departure from the Hawkeye set-up. We've had an amazing relationship with Paul Hawkins and his team from the early days. This doesn't change the live-calling side of the Hawkeye relationship and in fact we're expanding on that to take us forward for future years. But we were very taken with Fletcher's vision in this area of automated coverage, and they're doing some exciting work. Their passion and vision won the day for them," said Davies.
"For international clients, they will have the ability – wherever their player is playing, on whichever court – to get multi-camera coverage of that player, with commentary, because we're controlling the whole thing. Currently there's only one feed that goes to the world, and 12 to Europe: we're looking to get all 18 courts out to the world, somehow," he said.
Planning for 4K, HDR and beyond
Moderator David Davies asked the team to expand on how 4K and HDR might be added into the mix for 2018 and future years. Tom Giles confirmed, "Yes, Centre Court will be produced in some form of Ultra High definition. We'll definitely do it in 4K. The replay side of it will still probably be uprezzed 1080p; but we've also got an ambition to try to go into the high dynamic range world. We're exploring opportunities, with would then possibly lead us into doing our replays in HDR as well.
"We're going to do it in a simulcast operation, so there will be two outputs – one in 4K and one in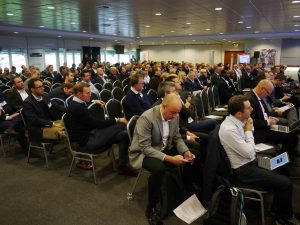 traditional 1080/50i," he said. "And then, hopefully, one vision mixer controlling two suites and one controller of a replay device operating two types. It's very early days.
"1080/50i HD is our bread and butter; that's where the money comes from," Giles emphasised. "And then we'll be showcasing what we can do over the next two years or so. Our approach is 'here's the match now: this is what it could look like'.
"In the last year the whole industry — be it lens to viewer or capture formats or distribution models or IP – everything is changing," said Giles. "We want to have a solution that allows innovation, beyond just Year One. So that when we do a review next year we don't have to completely change what we've done. This will allow us to provide a good service to everybody, for each Championship in the future."