FutureSport 2017: Speaker line-up confirmed for 'AI in Sports Production' panel discussion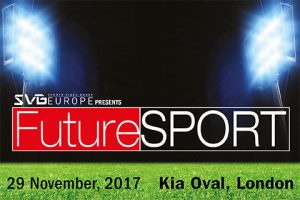 SVG Europe is very pleased to announce that IBM's Doug Clark, Hawk-Eye founder Dr Paul Hawkins, IMG Studios' Head of Library & Digital Media Simon Jones and EVS' Innovations SVP Johan Vounckx will join moderator Will Strauss to discuss 'AI in Sports Production: How Far Can It Go' at FutureSport 2017. The event takes place at The Kia Oval in London on Wednesday November 29.
Artificial intelligence and machine learning were a hot topic of discussion at IBC and are poised to reshape the nature of sports and live event production and asset management. There is also a move towards the application of AI in big tournaments to analyse objects, people and sounds to produce highlights packages, whilst in the area of metadata creation for archive assets there is possible scope for time-consuming logging work to be done by computers rather than people. This session will explore the current boundaries of, and future prospects for, AI and machine learning in sports production.
Doug Clark is Global Solutions Leader – Cloud & Cognitive at IBM Telco, Media and Entertainment. He leads IBM Cloud Video for IBM across EMEA.
Dr Paul Hawkins OBE is the founder of Hawk-Eye Innovations Ltd. He has taken the business from a start up in 2001 to a business that now employs over 250 people and is valued in excess of £150m. Andre Agassi described Hawk-Eye as "the biggest thing to happen in tennis for 40 years". The technology is best known for its use in tennis, cricket and football but is also used in 24 other sports around the globe.
Simon Jones is Head of Library and Digital Media at IMG Studios. IMG is closely studying the potential applications for AI in sports production. Logging is one area of interest; it is time-consuming for archive loggers to capture every occasion that a player kicks a ball or plays a shot and it should be possible for computers to take on some of these roles. AI could possibly help democratise sports coverage and bring down the cost of high-quality production in the future.
Johan Vounckx is Senior Vice President, Innovations & Technology, for EVS. At IBC2017 EVS demonstrated two possible applications for AI: player and pitch detection to generate an offside line without requiring any manual configuration or calibration; and automatic directing – the system has been trained to replicate editing decisions of a director, such as identifying and selecting the best camera angle to display at any given time.
Register here to book your own place at FutureSport 2017.