FutureSPORT 2018: European Championships content to the fore for Manchester event
Sports production professionals from around Europe are preparing to travel to Manchester for SVG Europe's FutureSPORT event at Old Trafford this Thursday.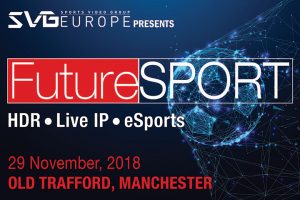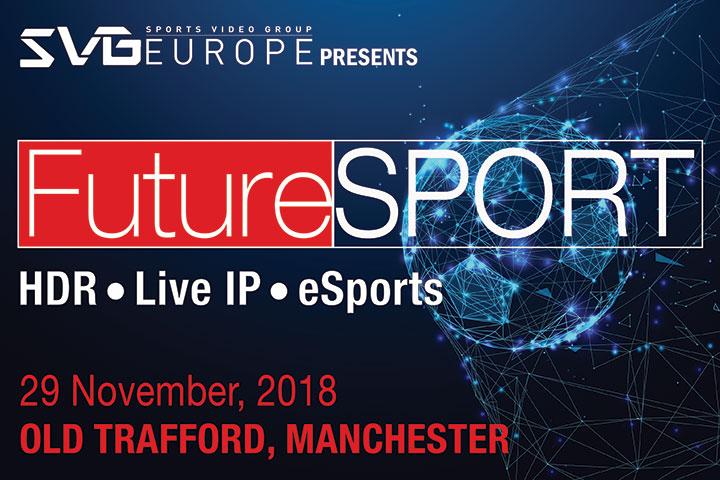 SVG Europe's final event for 2018 features an international content programme embracing such topics as HDR, live IP workflows and eSports, as well as panel sessions on the European Championships in Berlin and Glasgow last summer and the upcoming Rugby World Cup in Japan in 2019.
Well over 300 senior professionals have registered to attend this high-profile event. The final programme, with all topics and speakers confirmed, breaks down as follows:
Sports Production Perspective: Drivers of Change
What are the most salient recent trends in the sports broadcast production sector? We're certainly seeing constant pressure on budgets, the need for speed and multi-platform content, and the inexorable rise of eSports. Among the technology trends are IP and remote production, UHD, VR/AR and AI/machine learning. In this exclusive and bespoke presentation, the IABM draws on the latest research among its over 500 member companies in 55 countries to discuss these fashions and more, extracting the key statistics that will point the way forward for the sports production and broadcasting business.
Presenter: Lorenzo Zanni, IABM, Head of Insight & Analysis
Preview Case Study: Rugby World Cup Japan 2019
The next Rugby World Cup will be held in Japan from 20 September to 2 November 2019 – the first time the event has taken place in Asia. Twenty nations will battle it out during the six-week tournament, culminating in the final at the International Stadium Yokohama in Kanagawa. This session will explore the logistical and operational challenges faced by the Host and by European broadcasters as they plan ahead for this major international sporting event.
Chair: Fergal Ringrose, SVG Europe, Executive Editor
Speakers: Alan Bright, IMG Studios, Vice President and Director of Engineering and Stuart Coles, Alston Elliot, Chief Commercial Officer
HDR and Live Sport: It's Not Black and White
Sponsored by Panasonic
Industry and consumers alike agree that the increased contrast afforded by high dynamic range (HDR) – with its darker blacks and brighter whites – adds hugely to the televisual viewing experience, making pictures more realistic and even more immersive. But while standards are in place and the creative desire is obvious, HDR is only commonplace in post-produced content. With compatible consumer technology still rare, live HDR still has technical, logistical and commercial obstacles to overcome, whether it's married to HD, UHD or mobile. In this panel session, experts will discuss where we are with live HDR for sport, what we have learnt so far and what potentially happens next.
Chair: Will Strauss, SVG Europe, Contributing Editor
Speakers: Andy Beale, BT Sport, Chief Engineer; Shane Warden, ATP Media, Director of Broadcast and Technology; and Andrew Cotton, BBC Research & Development, Principal Technologist
Sponsor Case Study Presentation: Bringing the Highest Standard of Live Production into the eSports Arena
At the heart of the biggest eSports tournaments, EVS understands that producers cannot output a programme that's anything less than the highest quality. EVS works closely with major production companies to define new workflows that will take eSports programming to the next level. Based on real-world use cases, EVS shows how to increase the storytelling for fans while helping to reduce production costs.
Presenter: Jens Fischer, EVS, Account Manager DACH
Keynote: In Conversation With… Barbara Slater, Director of BBC Sport
Speaker: Barbara Slater, Director of BBC Sport
Chair: Will Strauss, SVG Europe, Contributing Editor
IP Challenge: Moving Beyond SDI in Live Production
Sponsored by TVU Networks
The broadcast industry is by now well aware of the benefits brought by IP technology. However, the speed and extent of IP migration is yet to be determined for many broadcast operators. What are the considerations when deciding on an IP infrastructure? What do you adopt and how do you scale? Strong inroads have been made — especially in live sports production operations — so what can we learn from those experiences and what are the remaining challenges in making that full IP migration?
Chair: Ken Kerschbaumer, SVG, Director Editorial Services
Speakers: Christian Gobbel, Host Broadcast Services, Head of Venue Engineering; Donald Begg, NEP Major Projects, Director of Technology; Malcolm Cowan, Timeline Television, Head of Technology; and Kim Francis, Grass Valley, Product Marketing Manager Networking
Session introduction: Colin Wood, TVU Networks, Business Development Director.
Case Study: European Championships Review
Sponsored by Avid
How do you get seven separate sports to agree to participate in a single sporting spectacle, in two cities, broadcast to a cumulative TV audience of over one billion viewers? And add in some major broadcast technology trials on top of the already innovative broadcast and digital coverage? All will be explained as our panel looks back to 11 hugely successful August days at the 2018 European Championships in Berlin and Glasgow.
Chair: Fergal Ringrose, SVG Europe, Executive Editor
Speakers: Franck Choquard, EBU Sport, Head of Content & Servicing; Jason Cowan, Avid Technology, Business Development Manager (Sports and Graphics); Jonny Bramley, BBC Sport, Executive Producer; and Richard Morgan, BBC Sport, Chief Engineer
eSports and Traditional Broadcast: Crossing Boundaries
Many of the world's biggest sports teams and federations are in the process of immersing themselves in the world of eSports, as the audience figures and demographics for early movers into this virtual universe speak for themselves. From this growing new genre, independent eSports companies are emerging and expanding, creating a new type of broadcast backbone specially developed for the eSports market. This session looks at how the eSports market is now influencing traditional sports broadcasters through its innovative ways of working, and highlights the key synergies between eSports and traditional broadcast production.
Chair: Heather McLean, SVG Europe, Contributing Editor
Speaker: James Dean, ESL UK, Chief Executive Officer