FutureSPORT 2019: Directions for the sports media technology industry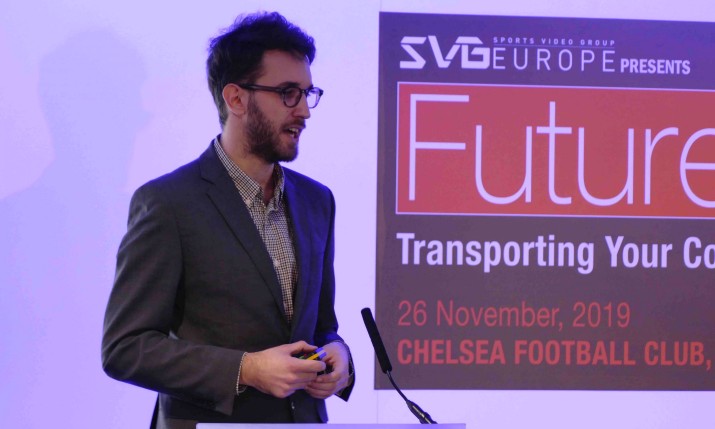 The FutureSPORT audience at Chelsea FC on 26 November was treated to an exclusive session powered by the IABM's data-driven insights on the business of media technology and the opportunities for sports broadcasters in a fast-changing media ecosystem.
In his presentation, IABM head of insight & analysis Lorenzo Zanni addressed "the main business drivers of change in the sports broadcasting industry, and how these are influencing demand for media technology.  Media companies are more and more going direct to consumer, but mainly with scripted content," he said. "Live sports remains in a good place, and is still the jewel in the broadcaster's crown.
"Live sports viewership has not in fact moved to new platforms as fast as other genres, which is why broadcasters are still investing a lot of their money in sports.
"However online delivery is growing significantly and the digital giants are increasingly investing in sports content to drive engagement on their platforms. This will continue to push up the inflation of sports rights and the premium paid for sports content," said Zanni.
"Sports is the only genre still capable of delivering massive and engaged audiences to broadcasters in an era of content fragmentation – thus driving a big share of the revenue."
"These drivers are prompting broadcasters' desire to streamline their operations and 'do more with less'. This budget pressure is being further challenged by fans' expectations of higher quality and interactivity. That is why broadcasters are augmenting their consumer experience and experimenting with new engagement models.
"As I say, we believe sports broadcasting remains in a good place, and in fact sports now accounts for 90% of the top 100 broadcasts in the US. Also, 90% of people in the US who regularly watch live sports are pay TV subscribers.
"Sports is the only genre still capable of delivering massive and engaged audiences to broadcasters in an era of content fragmentation – thus driving a big share of the revenue. At the same time, digital giants are increasingly investing in original content – particularly scripted content. The move to direct to consumer and the competition from the giants is prompting [legacy] media companies to look for digital speed and efficiency in their operations," said Zanni.
The changing dynamics of vendor-broadcaster relationships
The latest IABM research shows that top of sports broadcasters' technology priorities is 4K/UHD production and delivery with HDR, followed by multiplatform content delivery. Remote production comes next, and linked to that is cloud computing followed by IP infrastructure. Cyber security is ranked next at nearly 30%, followed by social media broadcasting, big data/AI, next-gen wireless technologies and file-based workflows.
Technology priorities must be balanced by the business rules applying to technology purchase. The reasons sports broadcasters gave the IABM for technology purchase were headed by 'makes us more efficient/saves money', followed by 'total cost of ownership' and 'makes us more agile/responsive'.
Below those criteria came interoperability, 'vendor's understanding of our needs', 'after-sales service & support' and ROI. Immediately below those values are 'vendor roadmap' and 'reputation of vendor', certainly very important factors nowadays in a disrupted and fragmented broadcast technology landscape.
Allied to those shifts in purchasing patterns are the new models of investment, where software subscriptions and software on-demand are increasing and hardware products plus permanent software licenses are in decline.
Regarding the 'doing more with less' mantra, the key areas identified by sports broadcasters are: automated camera systems to cover lower-tier events as sports broadcasters invest in more content; increasing interest in automating highlights production for multi-platform distribution; and more interest in automating metadata extraction to better monetise archives. Artificial intelligence and machine learning (AI/ML) is a major trend emerging into the sports broadcasting industry.
The latest IABM research has indicated that while immersive reality investment has slowed significantly since 2016, undermining its possible role in the live sports sector, augmented reality is a different story. Broadcasters see increasing value in using AR and gaming engines to augment broadcasts and retain viewers' attention. Marrying AR experiences with data and tactical analysis is highlighted as a compelling use case, and solid advertising business models are emerging as well.
"Finally I should mention eSports, a fast growing market which is attracting a lot of attention and investment at the moment," said Zanni. "Some broadcasters are investing in order to attract younger audiences. For example, Sky has decided recently to start broadcasting its news on Amazon's Twitch to connect with younger audiences – and we think this [trend] will continue as this audience consumes content in a very different way."