Game, set, match: inside IMG's Wimbledon World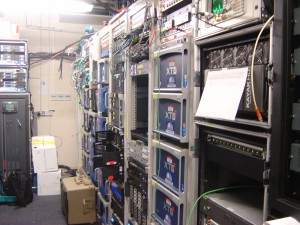 "You never want to tempt fate, but it has all been going rather smoothly so far," allows David Shield, SVP global director of engineering & technology at IMG Media. A week into the 2013 Wimbledon tennis tournament, Shield spared a little time to take SVG Europe into the heart of a broadcast infrastructure that sees it produce coverage from ten courts on behalf of the All England Lawn Tennis Club (AELTC) and host broadcaster the BBC.
As in previous years, IMG is producing a ready-to-air Wimbledon World Feed encompassing nine fully televised courts; a tenth is the subject of an automated camera trial already reported by SVG Europe. Available in HD, the fully useable live switched feed contains opening/closing titles and graphics, as well as cleared English language on one track and international track on the other. With wet weather and Championship sidebar stories, it is available on up to seven satellites worldwide on a cost share basis.
IMG also oversees the European Satellite Service – a continuous feed of raw television coverage with graphics from up to nine televised courts, plus a tenth for the World Feed and an eleventh dedicated to interviews – as well as 52-minute daily highlights programmes for the BBC, an official post-event film, and extensive web content.
Serving all of the above is a centralised content store that has involved IMG digitising all Wimbledon content since the archive was established in 2006. The EVS XT2-based system entails any broadcaster wishing to access footage being given an IPD to transfer the required content to their own EVS.
So far, so consistent with immediate previous years. New – or at least new-ish – for 2013 is the expanded Live@Wimbledon service. Launched in 2012 and very much an AELTC initiative, Live@ TV has been developed to – as Shield notes – "capture a flavour of what's going on around Wimbledon". To this extent, its access to individual matches is limited to a single game in each case. Resulting content is made available on a number of platforms, including youtube. Meanwhile, a Live@ radio service delivers news, opinion and highlights on a short-term FM licence.
While CAN Communicate and Sony handle the 3D production, IMG does keep an eye on the reception of 3D feeds around the world. Quite how much demand there will be for this service next year in light of the recent ESPN announcement remains to be seen; for now, everyone is (understandably) keeping their thoughts to themselves.
Inside the IMG hub, engineering manager Stephen Farr explains that operations for all broadcasters on site have been eased by the AELTC's decision to expand fibre connectivity and ensure "two absolute points and two routes into the ground". In making Wimbledon life easier, he also highlights the contribution of broadcast equipment supplier Gearhouse ("they have been really superb"), encryption overseer Eurovision and logging specialist Timeline. Integral to the tournament since 2007, Timeline records, logs and stores all of the media, using 21 EVS XT servers, for immediate browsing and editing on 50 IPDirector desktop systems.
Away from the core day-to-day workflow, a few interesting quirks remain. For example, Japanese broadcaster GAORA still has doubles match content delivered via tape as its turnaround is rather less-than-immediate. Meanwhile, as per the requests of the AELTC, Shield and team are generally able to provide a DVD of each singles match to its participant players within an hour of the match's conclusion.
Whilst IMG has no input to the 4K trial taking place, Shield readily confirms "a keen interest" – alongside, one imagines, many thousands of tournament visitors, who have the opportunity to view Centre Court and Court Number One footage (shot with Sony F55 and NEX-FS700 4K cameras) in a specially created on-site Sony 4K Experience centre. Lest the message be lost on people journeying to the AELTC, a large advertisement adorning the shopping centre opposite the London suburb's railway station confirms that an Ultra-HD Wimbledon is now hoving – irresistibly? – into view.