Gearhouse Broadcast using Simplylive Vibox for remote and smaller productions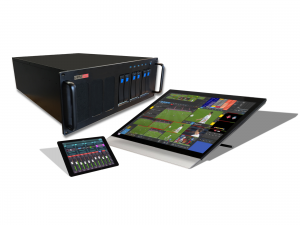 Gearhouse Broadcast has announced the purchase of ten Vibox all-in-one production systems from live production solutions manufacturer Simplylive. The deal means Gearhouse becomes the first supplier to make the product available to the North American market. The systems will be utilised across Gearhouse Broadcasts offices in the USA, EMEA and Australia.
Designed for a single operator, the innovative solution brings together a video switcher, audio mixer, graphics, slow motion and replay/highlights with an intuitive full touchscreen control interface. Vibox is designed for a six-camera production with clean and dirty video outputs, and ideal for jobs where a full OB set up may be impractical or cost prohibitive. All input sources and output programming are recorded on the system in broadcast grade codecs, and intuitive, user-defined automation is integrated into the software operation. This means common effects and transitions can be triggered by the operator through presets.
"We've known Luc and his team for a long time, and have been keeping a close eye on what they've been doing with Simplylive," said Kevin Moorhouse, COO, Gearhouse Broadcast. "We have a strong tradition of investing in new technologies and Vibox is an exciting proposition, serving up an innovative and affordable one-box solution that can be operated by a single user. It has similar functionality to a full OB van, but with a much-reduced on-site equipment footprint, making it well suited for remote productions."
Luc Doneux, Simplylive's managing director, added: "Gearhouse Broadcast is a worldwide name in the industry and their investment in our technology is a testament to both companies drive towards innovation. We are excited to work together with Gearhouse to grow the recognition of our products and brand. They will be providing the first Vibox servers to the North American market, where we expect to see things accelerate quickly."
Gearhouse Broadcast will be at 2017 NAB Show in Las Vegas, showcasing Columbus, its new 4K mobile unit for North America. It will be located in the outdoor/mobile media area between central and south halls in the exhibit area (Booth OE836). Simplylive will also be exhibiting at the show, showcasing Vibox on booth N1126 in North Hall.