Gearhouse Broadcast's HD5, HD6 trucks hit the road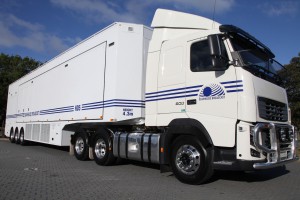 The Australian division of Gearhouse Broadcast has put two new 'super trucks' on the road, with two more commissioned and due to go into operation by the end of the year. All four trucks, which are each designed to accommodate 30 cameras, are intended primarily for live sports coverage.
The first two trucks to be completed, HD5 and HD6, have already covered AFL (Australian Football League) Australian Rules Football matches, horse-racing and V8 Supercars. The remaining pair in the order, HD7 and HD8, have been commissioned and are due to be finished and ready for service by the end of the year.
Coachwork for all four vehicles has been carried out in the UK by A Smith of Great Bentley, with systems integration undertaken in Australia. They have been designed to cope with the climate, terrain and long distances faced by Australian OB units, which are known as super trucks because they can be bigger than those used in Europe, being up to 15 metres long and 4.3 metres high. A spokeswoman for Gearhouse Broadcast in the UK explained that this allowed a single truck to cover events that in Europe would need multiple vehicles.
The four new trucks mark a major "multi-million dollar" investment for Gearhouse Broadcast. Manny Papas, sales and marketing director of Gearhouse Australia, observes that the fact HD 5 and 6 went straight on to jobs shows there is demand for the OB super truck. He adds that "several large events" are already lined up for HD 7 and 8.
Both HD5 and HD6 feature 80-input/36-output Sony MVSZ 7000 4ME vision mixers with four channels of internal DVE processing and key resizers on every ME. Vision routing is through 314 x 522 Miranda NV8576 3G hybrid systems, which internally embed and de-embed both analogue and AC3 audio and offer a MADI I/O. The 30 HD cameras include four super motion systems and six point of view units.
The audio section houses a 64-fader Lawo mc² 56 console, with processing for 888 channels with 144 summing busses. Surround sound monitoring is on a Genelec loudspeaker rig. Communication is provided through a 192 port, dual node Riedel Artist intercom, which offers 18 external panel ports, 64-channels of MADI I/O, independent engineering and production talkback ports for all CCU bases, plus voice over IP capability.
Replay and recording facilities are provided by seven eight-channel EVS XT3 media servers, four HD VTRs and eight DVD recorders. The vehicles have two 'Replay Tiers'; one with six fully featured operator positions, the other offering three seats for replay operators for tape producers. Monitoring in Replay Tier 1 is on three-row quad split Ikegami 21-inch screens from 72 source monitors, while Tier 2 has a two row quad spit arrangement with 24 sources that can be expanded to 36 using cascade.
Each unit has two production tiers. Production Tier 1 houses over 90 source monitors, with PGM/PVW as options, running through a Harris QVM6800 quad split processor, featuring cascade, to 18 Sony LMD 2450 1920×1080 HD LCD displays. Production Tier 2 has six operator positions with up to 48 source monitors on 12 screens.
Specifications for the trucks were based on requests from Gearhouse Australia's in-house teams and built into the final designs by head of engineering Stephen Edwards and his staff, working with chief design consultant John Fisher. "With John's expertise and knowledge as the driving force behind the design we are able to oversee and turn concepts into reality in every area of the truck in order that they become truly incredible production environments," Edwards comments.