German Football League trials vertical mode coverage on Bundesliga match
Sportcast and DFL Digital Sports-led portrait tests aimed at smartphone viewing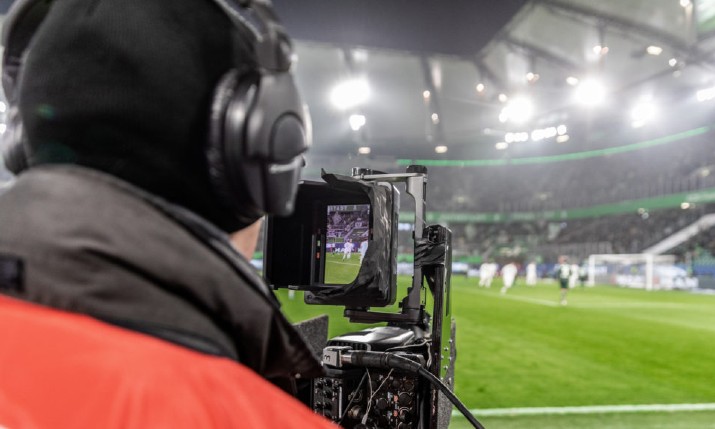 The DFL (Deutsche Fußball Liga) used last weekend's Bundesliga match between Wolfsburg and Werder Bremen to trial match coverage that was captured in a smartphone-friendly 9:16 vertical format.
Responding to what it describes as "changed media usage behaviour", the DFL tests made use of broadcast cameras that were tilted 90 degrees and were done with smartphone 'portrait' mode viewing and social media in mind.
The vast majority of football coverage the world over is shot in 16:9 widescreen 'landscape' mode.
During the test transmission in Wolfsburg, the 9:16 feed was produced with additional technology independent of the base signal. Five additional cameras were used in the stadium for the 9:16 production, adding to the 16:9 cameras that were in place for the standard widescreen coverage of the game.
For the portrait mode coverage, professional broadcast cameras were tilted using special tripods while viewing monitors in a separate control room (pictured below) were also rotated by 90 degrees. The images were captured in Ultra HD.
The test was implemented by the DFL subsidiaries DFL Digital Sports and Sportcast.
Andreas Heyden, EVP of digital innovations at the DFL Group said that the vertical footage from the game in Wolfsburg is initially intended for internal evaluation.
"As always, we develop innovations by adopting the fan's perspective.," he explained.
"We see that vertical videos in social media on mobile devices are better received than ones in a horizontal orientation. The successful test in Wolfsburg provides us with a good basis for further considerations as to how we can do even better justice to this usage behaviour in the future."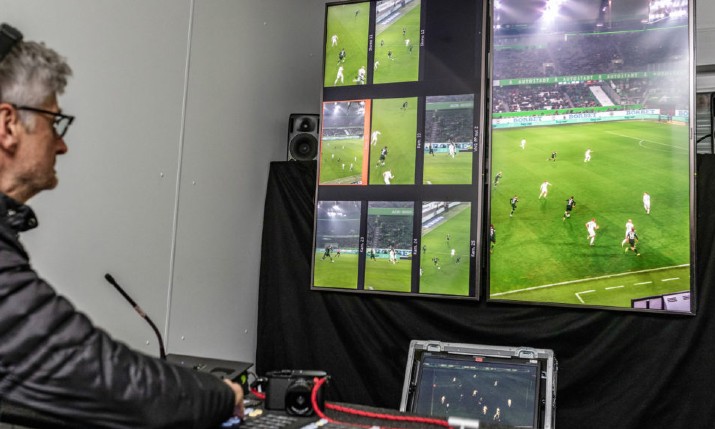 Sportcast is a full subsidiary of the DFL, based in Cologne. Since the 2006-07 season, it has acted as host broadcaster and produced the TV base signal for all games in the Bundesliga and Bundesliga 2, as well as the Supercup and promotion/relegation play-offs for national and international rights holders.