Giving the viewer the best seat in the house: Euro 2020 match director Jamie Oakford talks storytelling, matchday prep and more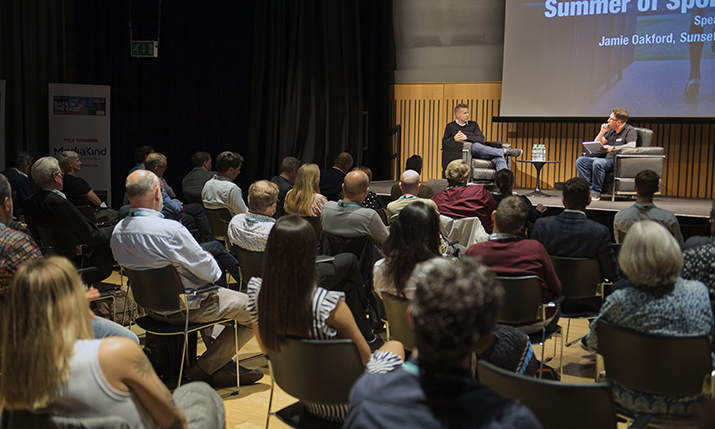 "My philosophy is to try to give the viewer the best seat in the house to hope they enjoy the viewing experience," Jamie Oakford, Sunset+Vine match director, told delegates at SVG Europe's recent Back in the Game event (28 July).
Oakford, who was a UEFA World Feed host broadcast director during Euro 2020, stationed at Wembley, has also worked on the Champions League, Premier League and more. But it was this summer's tournament that delivered an experience like no other.
"We knew very early on it was going to be different because we could see how the games at Wembley might unravel for England," he recalls. "We felt overwhelmed with the magnitude of what we were doing; we didn't want to believe it could happen really and we were worried England might get knocked out at the group stages and our dreams might be dashed.
"We felt part of the journey as well. We felt like we were England because we were basically chronicling the story of England as it unravelled to everybody. It was a great privilege to be part of something that big. The whole crew and the whole feeling was different to anything else we'd ever done before."
Given the fact that Oakford is a huge football fan and that England had such a successful tournament, you could be forgiven for thinking there would be something of a celebratory attitude during each game.
"You'd be amazed if you'd have been in our truck when England were winning because you'd have thought nothing was really going on because everyone's just sitting there calmly doing their jobs. You do have to remain totally professional and passive," he reveals. "Normally when we do these jobs, we're together as a group, we travel together, we're in hotels together. This time we were just at Wembley and we'd come out and there'd be no one there to even have a beer with. It was a really strange experience. Remaining neutral wasn't difficult to do at the time but soaking up the atmosphere was hard."
COVID, of course, was a huge factor in the run-up to the tournament with venue changes and evolving restrictions across Europe. For Oakford, however, the impact wasn't as significant.
"We had briefings in large rooms in an area that was sterilized, with 30 or 40 camera crew. I did other briefings on talkback. Normally I like to do things face to face but that wasn't allowed. The main people that I work with are the replay guys and the camera guys; I delegated a lot of the replay guys to my colleague and I did a half-hour camera briefing with my guys before they went out, so it didn't make anything that different, it just wasn't as familiar as it might normally be."
Finding the stories
When it comes to storytelling, Oakford follows three main guidelines to deliver the best possible match to viewers: "One is, when the ball's in play don't cut unless you can make it better. The second thing is to try to tell all the stories that you can around the game and the third is to answer all the questions why.
"So, for example, the first thing is don't cut. Camera 1 is the main camera in football. When you go to the game as a fan you can see whatever you want to see, there's no one zooming in and out or giving you a tight shot, you're in control of what you want to do. I like to try to replicate that in the coverage; when the ball's in play you want to see the ball in play. You can cut tight occasionally but not overdo it. Then, when the ball is out of play, you tell your stories and you show the replays. A good director is almost like a good referee, you don't notice them if they're not doing anything wrong; you just enjoy what they're doing."
"A good director is almost like a good referee, you don't notice them if they're not doing anything wrong; you just enjoy what they're doing"
Of the 44 cameras in use at Wembley – which includes the six or seven that dealt with press conferences, team arrivals, tunnel cameras and the like – Oakford picks out the Steadicam, Spidercam and the Polecam – which, "breaks down the barriers to the goalkeepers," as particular favourites.
"I just like cameras that bring you closer to the action," he explains. "We all want to be up close and personal with the action. The great thing about when you work with FIFA and UEFA is that they control the stadium so they can put cameras wherever they like pretty much, so long as it's safe."
He adds: "The biggest problem in football is access. It's one of the unwritten laws that we don't get access to dressing rooms or referees, we haven't got transparency in VAR in the same way rugby and cricket do. The barriers in football, maybe because it's the biggest sport in the world, they just seem much slower to break down. It's still on the table for discussion but it doesn't seem to be making much progress."
Preparing for penalties
As well as the 90 minutes of match action, Oakford also had to contend with pre-match build-up, the extra time and penalty shootouts. Unlike most England supporters, Oakford is a fan of the latter.
"I love penalties. As a director, it's something you can actually plan for. The crew don't like them as it means they have to work for an extra 45 minutes! For me, it's the one thing you can actually tell every camera, 'this is what I want you to do' and it does happen very fast so you have to basically work with the main 12 cameras. The main shots that I look for are the face of the guy taking the penalty, the goalkeeper's face, the manager, the fans, three or four shots of the fans that are happy, sad, anticipation. You then have to work out which camera you use for the replays, which cameras you're going to take live.
"[For the final] we identified [Italian players] Bonucci and Chiellini in the group on the half way line as players that would react. In the game you plan for lots of stuff that can never really happen because the speed of the game might overtake you. But during penalties you know there's a finite amount of time, you can mix up the shots.
"I also look at the anthems. I love the anthems. The Italian anthem is like a work of art almost – you've got about 20 seconds of nothing before the players go absolutely hell for leather, so working out that Bonucci and Chiellini were the two guys who really sang their hearts out – you try to find shots like that. And managers; some managers don't do anything, they just stand on the sideline. Then you have others that go crazy; every little thing they're just living it. Knowing those little things does help."
Oakford's next match was the pre-season friendly between Brentford and Valencia on Saturday 7 August. "It's going to be tough to move from being the epicentre of Wembley to being remote in High Wycombe, but I love directing football so if it's three cameras in anywhere I'll be there, and I'll do it to the best of my ability."