Glensound promotes IP through new USB commentary systems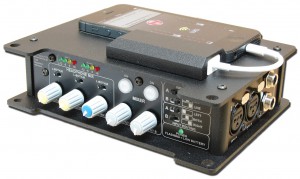 UK commentary system manufacturer Glensound Electronics used this week's BVE (Broadcast Video Expo) show to demonstrate the results of its continuning push into IP connectivity and new media interfaces. A reporters' mixer and a version of the recently released USB commentators' unit, both with interfaces for smart phones or tablets, attracted attention during a busy exhibition, held at the ExCel centre in east London from 25-27 February.
According to Glensound's sales and marketing manager, Marc Wilson, the biggest draw for visitors was the Cub, a two-in, two-out audio mixer featuring a USB interface to accommodate an iPhone or other smart device. Glensound produces the mixing and connectivity hardware and combines that with IP codecs, including as the Luci Live or recording software.
Wilson commented there is also scope for incorporating intercom apps from manufacturers such as RTS. While initially aimed at location radio reporting, with capability for one mic and play-in, Wilson said the Cub could also be used for sports commentary, allocating one channel for the commentator and the other for talkback. Both inputs are mic/line/phantom switchable with mic amps for broadcast quality audio. It can be configured for either stereo or twin mono. Headphone outputs with left-right switching are connected through a a three input (USB audio 1, USB audio 2, input MIX) mixer.
The Cub is due for shipping at the beginning of April and, says Wilson, is already attracting attention. Also new at BVE was the GS-GC5T/USB, a version of the IP connected commentary system launched last year. This unit differs from the GS-GC5/USB by having an integrated stand to support an iPad or other tablet as the connection control interface screen. Like the GS-GC5/USB it works with Luci Live and features the same USB interface as the Cub.
"The GS-GC5T/USB is targeting sports commentary but with a different format for people using tablets," said Wilson. "We're still being asked if we're doing IP and we now supply the hardware for different apps."