GlobalSportsJobs teams up with Trivandi Chanzo for Ashgabat 2017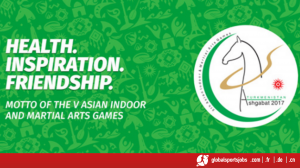 GlobalSportsJobs has announced that it will partner with major project consultants Trivandi Chanzo ahead of the 5th Asian Indoor and Martial Arts Games to be held in Ashgabat, Turkmenistan. Trivandi Chanzo is the officially appointed Operator for Games Planning and Delivery for the international multi-sport event, which will take place from 17 to 27 September 2017, and will work with GlobalSportsJobs to attract a great diversity and quality of talent. GlobalSportsJobs will also showcase the event planning of Ashgabat 2017 through a range of video and written content.
A total of 62 nations will compete in the Games including all 45 member countries of the Olympic Council of Asia and, for the first time, 17 Oceania National Olympic Committees. The event will see over 5,500 athletes compete in 21 sports, including taekwondo, kickboxing, tennis, track cycling, equestrian, indoor athletics, 3-on-3 basketball, and wrestling.
Trivandi Chanzo is a joint venture founded by two former Directors of the London 2012 Organising Committee, James Bulley (CEO of Trivandi) and Jean Tomlin (CEO of Chanzo). Together they bring a rich pedigree and expertise in operational planning and delivery, recruitment, human resources, workforce and volunteering at world-class sporting events.
GlobalSportsJobs will work with Trivandi Chanzo to attract international Games experienced experts with a strong operational background to work across 29 different functions, including venue management, overlay, workforce, event services, press operations and sport competition.
Jean Tomlin, CEO of Chanzo, commented: "Ashgabat 2017 is a fantastic opportunity to showcase the capability of people to 'deliver brilliant'. We are proud to be working with GlobalSportsJobs to help us attract first-class event experts to ensure we plan and deliver the Games to the highest international standards."
James Bulley, CEO of Trivandi, said "We are delighted to be working with GlobalSportsJobs to help us deliver this unprecedented challenge of planning and operating a major multi-sport event in less than 500 days."
GlobalSportsJobs CEO Will Lloyd added: "It is with great pleasure that we offer Trivandi Chanzo Limited our digital talent acquisition expertise for this exciting project. These Games in Ashgabat, plus Baku's hosting of the 2015 European Games, the 2016 F1 European Grand Prix and four UEFA EURO 2020 fixtures, show that nations of Central Asia are firmly establishing themselves in the global host city market."