Glodina Connan-Lostanlen wins IABM Outstanding Woman in Broadcast 2018 Award
Dr Glodina Connan-Lostanlen of Imagine Communications has won the first ever Outstanding Woman in Broadcast Award, presented by IABM in association with Rise.
The award was presented at IABM's Annual International Business Conference awards ceremony on the evening of Thursday, 6 December.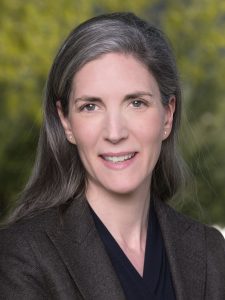 Connan-Lostanlen is now senior vice president and general manager for the Americas for Imagine Communications' Playout & Networking Sales and Services. She also leads the company's marketing activities globally.
"Glodina's exceptional success in the industry has come through her remarkably deep knowledge and understanding, not just of the technology, but of the way that our customers need to apply it," said Tom Cotney, president and CEO of Imagine Communications. "She is a massive asset to our business, and to our clients around the world. Her commitment to the broadcast industry extends well beyond the 9-to-5 professional obligations, and she has always used her roles to serve as an advocate and educator. This award is richly deserved, and every single person in the Imagine Communications team is proud of her."
"Glodina's dedication and drive are a shining example for everyone in our industry regardless of gender," said Peter White, IABM CEO. "This also makes her a fantastic role model for young women working in broadcast and media, and Glodina patently deserves the recognition that this award, presented in association with the excellent Rise organisation, brings."
Connan-Lostanlen's interest in broadcast technology began at Rennes University in France, with a diplôme ingénieur in electrical engineering, a masters in microwave and opto-electronics and a Ph.D. in signal processing and telecommunications. She started her career in digital signal processing for internet communications over satellite, before joining what was then Harris Broadcast in 2001.
Her first role was as global evangelist for the emerging digital radio and television revolution. Her drive ensured Harris became the world leader in DAB solutions, and led to her rapid promotion, taking her from her native France to Canada in 2009. As director of product marketing she oversaw excellent growth in revenues. When Harris Corporation divested its broadcast portfolio, Connan-Lostanlen spent nine months supporting the due diligence process.
The new business emerged as Imagine Communications, with Connan-Lostanlen in the forefront of its complete refocus towards next-generation, IP-enabled, software-defined and cloud-based technology. Then as now she has led the industry from the front, a highly visible presence at conferences and technical presentations around the world and a frequent publisher of white papers.