Going to ISE 2018? Then make sure you register for SVG Europe's Sports Venue & Fan Engagement Summit!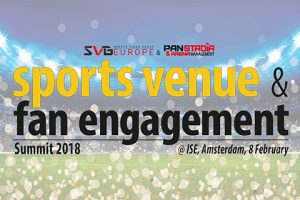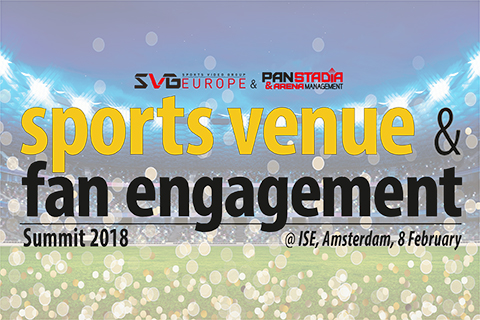 On Thursday 8 February at the ISE exhibition in Amsterdam, SVG Europe and PanStadia & Arena Management will offer delegates the opportunity to find out about the latest technologies that are shaping venue design and enhancing the connection between fans and sports clubs and federations around the world.
Fan engagement both within the stadium and beyond has never been critical than it is in 2018, so it was a logical move to make this a primary topic of the new-look Sports Venue & Fan Engagement Summit. Through a series of presentations and panel discussions, we will consider the technologies and techniques – such as OTT services and higher-quality content for mobile – that are bringing fresh dimensions to fans' enjoyment of all their favourite sports.
RH Consulting founder/consultant Roland Hemming has been involved with several editions of this event's forerunner, the Sports Venue Technology Summit, and will again feature at the 2018 summit as both moderator and speaker. He remarks: "The stadium summit is a must for those involved with AV technology for sport. The mixture of audio, video, consultants, integrators and end clients is unique. It's a great chance to see where the next generation of stadium technology is going. It's always engaging with many high profile and respect speakers and panellists."
Underlining Hemming's observation, the line-up of speakers for the 2018 event includes:
Peter Ayres, AECOM, Director Buildings + Places
Bob Boster, Clear-Com, President
Paul Brislin, Arup, Director and Architect
Roland Hemming, RH Consulting, Founder/Consultant
Andreas Hildebrand, ALC NetworX, Senior Product Manager and Evangelist
Ryan Jespersen, Wowza Media Systems, Regional Manager, Europe, Middle East and Africa
Mark Kelly, Ashton Gate Ltd, Managing Director
Steven Kelly, Ostmodern, Senior User Experience Manager
Jeroen van Iersel, Amsterdam Arena, Marketing Manager
David Lowry, SSE Arena Belfast, Technical Advisor
Paul Lipscombe, Ashton Gate Stadium, Head of Technology
Charlie Marshall, Supponor, COO
Hassan Peymani, Volcano City, Director/Co-Founder
Nik Selman, Formidable, Managing Director
John Smith, Media Links EMEA, Managing Director
Will Waters, NewTek, Senior Director IP Workflow Strategy
The Sports Venue and Fan Engagement Summit is completely free to attend. For a full programme, and to register, please visit https://www.svgeurope.org/sports-venue-fan-engagement-2018/programme/. (Attendees must also register separately for ISE 2018.)