Golf Channel tees up with Lawo for switch from analogue audio infrastructure to digital
In 2016, the Golf Channel, a multimedia golf entertainment and services company based in Orlando, Florida, and part of NBC Sports Group, decided to move from its old analogue audio infrastructure to digital, and its chose Lawo to help it achieve that goal.
When it started the project, its objective was to overhaul its entire audio infrastructure while achieving IP-transport, pooled resources, ease of operation, and improved workflows.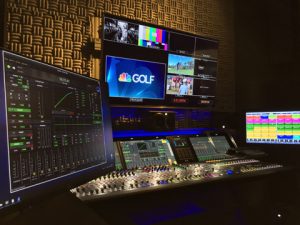 On why the Golf Channel decided it was time to overhaul its audio kit and go digital, Dennis Milewski, director, systems services at the Golf Channel, commented: "Our existing infrastructure was heavily reliant on analogue connectivity. With ever increasing production needs, we saw an opportunity with Lawo to address those needs."
He continued: "This is the first time we've partnered with Lawo. They presented a robust product offering encompassing audio, commentary systems and video products. This, coupled with their track record in the industry with other major broadcast facilities made them stand out as a good fit for what we needed."
Three 64-fader mc256 consoles were installed in Golf Channel's primary production control rooms for live audio, with an additional three 16-fader mc236 consoles installed in hybrid live audio and post production rooms. In addition to the consoles, Lawo Commentary Units were installed in voiceover booths located throughout the Golf Channel campus. Tying everything together is a Nova 73 audio router and eleven DALLIS audio I/O frames located in Golf Channel studios, control rooms, and equipment areas.
For additional flexibility, Golf Channel also installed four Lawo V__pro8 audio/video processors to take the complexity out of video and audio channel mapping. The addition of four Lawo V_pro8 units gives Golf Channel the flexibility to synchronise any of the eight inputs and outputs with a MADI audio matrix. Live video and audio monitoring is built into the HTML5 web GUI, and the flexibility to build programme, auxiliary and camera paths in minutes rivals any other interface it uses. The V__pro8 units are utilised as extra resources, with a dedicated unit per production control room and a fourth unit wrapped around the core video router.
"One feature that our Operations Team has been very excited about is the flexibility of Lawo's custom functions," stated Milewski. "Using the custom function of the mc² series consoles, the operators can programme the console to do almost anything they can imagine. Currently, the custom functions are used for specialty audio monitoring situations, back up microphone routing, and GPIO tasks like studio on-air lights, among many other uses."
Lawo and Golf Channel worked under a tight schedule to integrate all systems during a December 2017 production hiatus. Back end infrastructure began in early October 2017, with the actual install taking place over a four month period. "Our two largest control rooms were strategically outfitted in December 2017 while no live programming was in production," noted Milewski.
On challenges around the switchover, Milewski commented: "Scheduling around production was a challenge early on in the buildout. Our operations team adapted to the consoles with minimal issue, and Lawo's on-site training was some of the best we've seen. Lawo's trainer – Frank Mosch – was able to assess our operation and recommend new workflows that made the transition more seamless."
Milewski continued: "Lawo was incredible to work with from project start to finish. Our operators found that Lawo's trainer went above and beyond, making them feel comfortable with extensive training and on-site presence."
Golf Channel launched the new system on 2 January this year, utilising it during its signature daily live news programmes, Morning Drive and Golf Central.
Concluded Milewski : "Our production personnel and operators, and especially our engineers have really embraced this system. We've prepared our facility for any audio situation we might encounter, including the 5.1 surround launch of our network in 2018."
Golf Channel is available to nearly 500 million viewers in 78 countries and nine languages around the world. Golf Channel features more live golf coverage than all other networks combined, including tournament action from the PGA TOUR, LPGA Tour, The Open, Olympics, and Ryder Cup, as well as high quality news, instruction and original programming.