Goodwood names Gravity Media as host broadcaster of motorsport events in five-year deal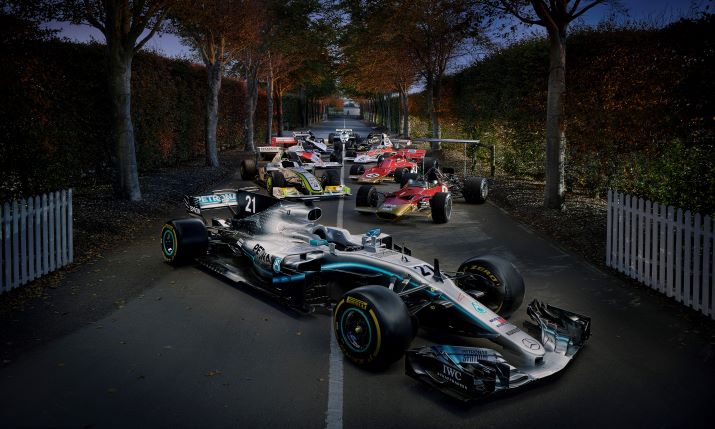 Gravity Media has been awarded the contract to bring three of the motorsport calendar's greatest events to the screens for Goodwood. The five-year deal sees Gravity Media appointed to broadcast three prestigious events – the Members' Meeting on 9-10 April, the Festival of Speed on 23-26 June and the Goodwood Revival on 16-18 September.
Gravity Media will supply more than 90 hours of live content across the three events, including six days of live coverage for ITV. There will also be world feeds for international partners, dedicated digital production, exclusive partner content and fully crafted highlights shows for domestic and international fans.
The company will provide end-to-end production for the events, combining editorial expertise from some of the most highly-regarded motorsport producers in the UK. The turnkey operation will also include full design and rebrand of the onscreen graphics, support for Goodwood's digital content strategy and project management across all events and partner activities.
With sustainable production being a key priority for both Goodwood and Gravity Media, this will be a hybrid operation compliant with Gravity Media's recent ISO 14001 accreditation for environmental management systems. It will utilise an onsite flyaway infrastructure, state-of-the-art OB truck Pictor, and remote operations from the Gravity Media London Production Centre.
The full edit and EVS workflow will be provided by a dedicated team, ensuring the project makes the most of all of Gravity Media's combined strengths.
"We are delighted to announce our new production partnership with Gravity Media. Broadcast – across TV and social media – is an increasingly important part of Goodwood's event business, and this deal promises to take our production to a whole new level. Taking advantage of Gravity's industry-leading technical expertise, we will have more cameras than ever before, new graphics, and a new production team led by Martin Turner," said Will Kinsman, events creative director for Goodwood.
"We will be creating more than 10 hours of content from each day of the Members' Meeting, Festival of Speed and Revival, and offering that feed via big screens at the events, as well as providing both a live stream and clips for motorsport fans watching around the world. Our presence on ITV will also be expanded, with live broadcasts on Saturday and Sunday afternoons from each event as well as the traditional highlights shows. It marks the beginning of an exciting new chapter for Goodwood."
Blair Wood, BD director at Gravity Media, said: "Goodwood really is the perfect project and partner to demonstrate the true power of Gravity Media as a single brand and we are delighted to be working on such prestigious motorsports events. Our history in motorsport, particularly as an innovative technical partner, is something we are very proud of, but this contract can take that to a different level. With the peerless Martin Turner at the helm, we have assembled an excellent production team and an exciting new on-screen talent line up. When you combine them with Gravity Media's own rich array of expertise across technical, production and post-production operations, we are looking forward to bringing fans on ITV, Goodwood's digital platforms and at the events themselves, closer to the action than ever before."
Ed Tischler, MD at Gravity Media, said: "We are already enjoying early interactions with Goodwood, a partner who truly matches our values and one that we look forward to establishing a long and successful relationship with. We feel extremely proud to have been chosen by such an important British legacy motorsport brand as Goodwood. It is another key moment to allow us to showcase our fully integrated end-to-end solutions, leveraging the scale and expertise of our team."