Grabyo goes for Gold with SVG Europe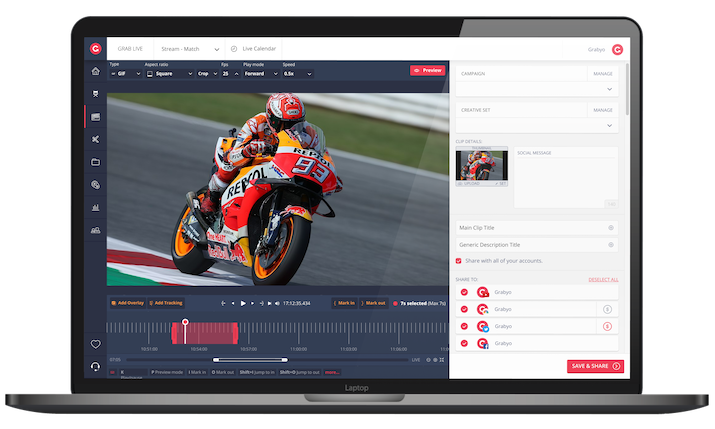 Cloud video production platform Grabyo has renewed its Gold sponsorship of SVG Europe. The company's tools are used by clubs, federations and broadcasters globally to produce, edit and deliver quality live and real-time video across all major digital, social and broadcast platforms.
This includes the Professional Fighters League, which generated over 55 million engagements utilising Grabyo in 2021; Super League Triathlon, where Grabyo recently teamed up with Aurora Media Worldwide to deliver a new form of hybrid broadcast and digital production service for broadcasters, media rights holders and publishers; and Goodwood's Motorsports Content Team, which last year partnered with Grabyo to streamline video production, management and distribution for its three headline motorsport events.
Further developments are in the pipeline for the platform, as Scott Lunn, head of content at the company, explained: "In 2022 we will be bringing more innovative cloud production tools to the sports broadcasting industry, building on our powerful platform and doing things that have never been done before. Last year we were chosen as a launch partner for TikTok's 'Share to TikTok' API and released a host of new features to our platform, such as a cloud-based audio mixing interface, and the ability to ingress new formats such as SRT, Zixi and RiST."
On Grabyo's decision to extend its relationship with SVG Europe, Lunn added: "We have renewed our partnership with SVG Europe again this year due to the success we have seen in reaching the sports broadcasting community and driving conversations that matter. From SVG's wonderful events, to seeing our news covered across its channels, we know that our customers value the publication and see it as the go-to place for leading sports industry insight and information."
Find out more about the benefits of SVG Europe sponsorship.