Grabyo helps MotoGP deliver fan-first content with progressive digital strategy
Just 12 months after its partnership left the starting grid, MotoGP says its work with cloud-based video specialist Grabyo has paid off, as it has begun to use social video and live streaming to grow a global community around the championship.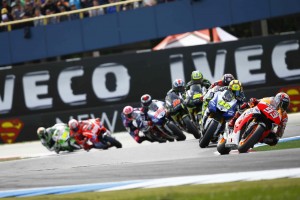 With its digital fan base now standing at more than 22 million, MotoGP has used Grabyo's video technology to publish live streams and real time race video to engage millions of fans across the globe. Since they began working together at the beginning of last year's season in May 2017, Grabyo has also been used deliver Twitter Amplify campaigns, integrating with sponsors and partners to deliver in-stream advertising and sponsorship for key moments during the race weekend.
MotoGP makes use of Grabyo's mobile editing features to produce Instagram stories, taking real time footage and publishing it in the mobile-friendly vertical video format. The digital team also now uses Grabyo's Live Producer product to create social live shows, providing additional content and a community experience for fans. These events are broadcast ahead of each race and provide fans with exclusive, behind-the-scenes content and interviews with riders or teams.
In 2017 the world championship took the strategic decision to provide social media friendly content to its riders, teams, broadcasters, sponsors and promoters, in order to further expand the global ecosystem around MotoGP. While the live broadcast of each race is still the priority, MotoGP's extensive team of cameramen and editors have been briefed to consider content for social media. The Dorna team are looking for viral moments that drive key engagement, especially younger, more digitally engaged fans.
MotoGP generated over a billion video views during the 2017 Season, double the previous season, and more than 380 million engagements.
"We've demonstrated the global appeal of the sport and the potential to use social platforms to engage a younger audience demographic and to drive this audience to linear broadcast TV," commented Manel Arroyo, managing director at Dorna Sports, owner of MotoGP sports rights.
"MotoGP is the oldest motorsport world championship but its digital strategy is the most progressive," comments Gareth Capon, CEO at Grabyo. "The Dorna group, which owns the rights for MotoGP, was one of the first sports rights holders in Europe to explore commercial opportunities around Twitter Amplify and was an early adopter of Facebook Live. Indeed the success of MotoGP has caused the likes of Formula One and Formula E to rethink their approach to video content."
MotoGP has an extensive broadcast network delivering live action to 207 countries and reaching 427 million homes around the world. There are now more than a hundred broadcasters and OTT services that bring the best of MotoGP to viewers around the world. MotoGP also offers a direct to consumer OTT service (VideoPass) for fans, again one of the first of its kind for a major sports rights holder in Europe.