Grabyo debuts cloud-based instant replay for live sports at IBC 2022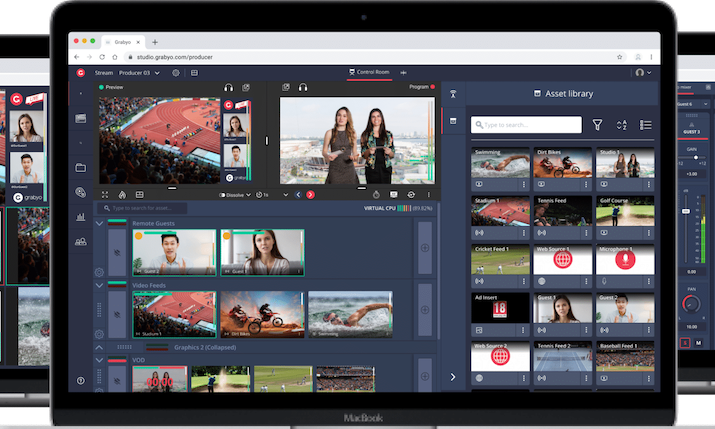 Grabyo introduced a new cloud-based instant replay solution at IBC2022.
Cloud video platform Grabyo is accessed using a web browser over public or private internet and used by production teams in multiple locations worldwide to produce live events and deliver clips in real time to social, digital and broadcast platforms.
At IBC 2022, the company announced major updates to its live production platform, Grabyo Producer, launching instant replay, slow motion controls and a new media playout system to extend its cloud production services.
The instant replay solution will allow operators to create synchronised replay clips from multiple cameras for immediate playout in live productions, with speed controls for slow motion playback and motion control. It will be available inside Grabyo's Producer Control Room, with customised views available for larger productions supporting multiple operators for a single event.
The Grabyo team has also released a number of updates for professional broadcasts in the cloud, including support for key and fill inputs, custom graphic transitions and stream ingest using AWS entitlements.
Grabyo's new advanced media playout system allows replay operators to queue replays, VOD assets, promos and clips, and create video playlists for live productions. This update brings enhanced controls for managing and playing media during live broadcasts, including options to disable audio following video, which will benefit production teams beyond sports.
"We're excited to be back at IBC to catch up with everyone in person. The Grabyo team is bringing some of the most advanced feature updates we've ever built," said Gareth Capon, Grabyo CEO. "Over the past three years, the team has worked hard to push the limits of cloud production, with our customers delivering some amazing things with the platform. It is such an exciting time for cloud video production, it's an important shift for the industry and there's still so much more to come."
Grabyo also brought a number of feature updates to IBC2022. These include the ability to ingest and egress live video in SRT, Zixi and RIST formats, automated ISO recording, key and fill graphics support and a number of powerful user experience updates including asset snapping for video scenes and AI-powered picture-in-picture zone detection.