Grass Valley-Black Dragon deal in depth: Shoulders and Hernandez Jr on what it means for the industry
The two executives foresee a software-based future for the broadcast-tech company
When news broke yesterday (Tuesday 4 February 2020) that Belden would be selling its Grass Valley business to Black Dragon Capital, many in the broadcast industry breathed a sigh of relief.
After Belden announced plans to divest Grass Valley in October, the broadcast-technology giant — and its customers — found itself in a state of limbo as the company pursued a new private-ownership structure. However, with the Black Dragon deal in place, the private-equity fund's founder and CEO Louis Hernandez Jr. and Grass Valley President Tim Shoulders are projecting a bright future.
Following the announcement, SVG spoke at length with Hernandez, former CEO of Avid and a broadcast-industry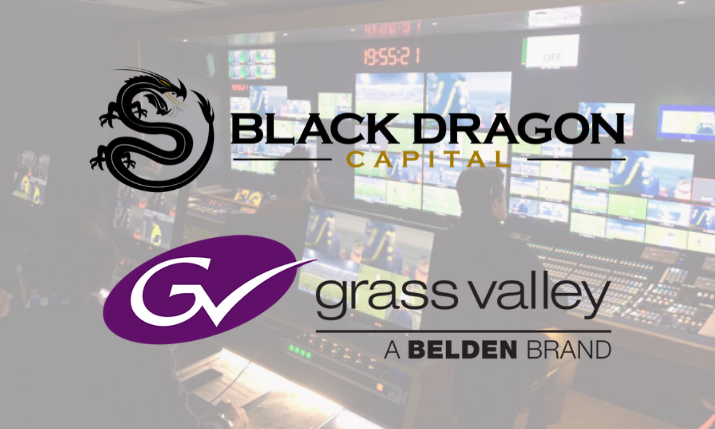 veteran, and Shoulders, who will continue in his role.
The two painted a picture of a company that will be less concerned with short-term financial needs that drive the stock of a publicly owned company like Belden and far more focused on building value into the business over the long term.
In addition, both Hernandez and Shoulders say the deal will accelerate the shift of Grass Valley's product portfolio to more-flexible software- and SaaS-based technologies in the near future. Hernandez also stresses that Black Dragon is in it for the long run and looks to bring stability to Grass Valley, which has seen three owners in the past decade.
Hernandez and Shoulders offer an inside look into how the deal got done, why it makes sense for both companies, what customers can expect in the near term, and what the acquisition means for the sports-broadcast sector and the M&E industry as a whole.
Why did this deal make sense for Grass Valley?
Shoulders: Being part of the Black Dragon Group will help Grass Valley accelerate our innovation, and we will have the ability to be more strategically focused on the long term. There will be a lot less concern about short-term financial needs driven by being part of a publicly owned company and a lot more focus on building value into the business over the long term. I think that is extremely positive.
And why did this acquisition make sense for Black Dragon Capital?
Hernandez: First, what makes Black Dragon unique is that we're all operators and all of us have run successful businesses in the sectors in which we invest, which is media and sports, banking, and e-commerce. And, in each of those areas, we create a thesis of what's happening with the digital disruption and which companies are best-positioned to lead.
Based on our assessment, we believe Grass Valley is in an ideal position to help [customers] navigate this transition to pure digital workflows. Unlike a lot of companies who announce products [that] aren't ready for a long time, we were very pleasantly surprised by how advanced their technology was, so we couldn't be more excited.
Why do you see Black Dragon as the right ownership fit for Grass Valley moving forward?

Shoulders: I think Black Dragon makes an excellent owner for the Grass Valley business because they have expertise in digital transitions and that is exactly what the broadcast business is going through currently. In our strategic plan at Grass Valley, we had identified a real need to help the industry [transition] into more-flexible business models and dynamic workflows. Black Dragon has the expertise, having done that on several occasions, so we will be able to rely on their expertise in order to get to the end goal faster.
What does this deal mean specifically for the sports-production and -broadcast industry?

Shoulders: This transaction puts us in an improved position to invest in workflows that will help our sports clients deploy more-efficient productions, including [remote production] models or cloud-based–production models. In a relatively short period of time, we are going to be able to provide them with solutions that will revolutionise the way they create content. I think that's exciting.
They'll be able to experiment with their own business models and their own revenue models in a way that's cost-effective. And we're uniquely positioned to unlock those abilities for them because of the breadth of our product set.
Can you describe what the 'Black Dragon Playbook' is and how you see its aiding Grass Valley in the future?

Hernandez: All the partners [at Black Dragon] have started businesses and turned them into billion-dollar businesses, as well as turned around very large companies that were in trouble. Through those experiences, we've learned and codified a way to create high-growth, financially viable software companies that are leading their industries.
We've essentially codified that into three tools: the Black Dragon Leadership Index, which is how to identify and put together the best team for the phase of development the company's in; The Black Dragon Playbook, which is how to solve the industry's most critical problems and inspire the industry forward in an economically sustainable way; and The Black Dragon Way, which creates an accountable, winning culture where people love to work and you really make a difference in the community.
As it relates to Grass Valley, we feel we can use these tools to help the management advance the course that they're already on without being limited by being part of a public company that is focused on quarterly results. We are embracing an industry that we love to participate in and investing in for the long term.
The M&E/broadcast industry is undergoing drastic technological change, and many manufacturers face steep hurdles in the years ahead. How will Black Dragon and Grass Valley be equipped to handle these challenges?

Hernandez: I think everybody loves media tech until they dig deeper into what is actually happening. It's an expanding market, but it's in the middle of a very disruptive economic transition. And I think most investors just get spooked or don't know how to navigate it. That's why our background and decades of experience in the industry are so significant. We live and work here, so we're used to it, and these kinds of transitions don't spook us. We're not afraid to invest in our community. We know it's not always easy, but we know you can have successful investments if you navigate things the right way.
What can we expect from Grass Valley in terms of product releases and overall strategy over the next 12 months?

Shoulders: We have some product announcements planned for NAB that I think are truly exciting and transformative and right down the fairway of what our strategy is going to be with Black Dragon. The most significant thing that our customers should expect out of Grass Valley is a dedication to serving them with innovative new workflows. That has always been part of Grass Valley's history, but ownership by Black Dragon will allow us to double down on the innovation and accelerate the investment in new solutions for our customers.
We have a very large installed base of customers that count on us to deliver products that are stable and reliable, and we're committed to continuing to do that and serving that loyal customer base. We are here to help our customers transition into more software and flexible models so that they can invest in new business models, new areas, and new revenue streams.
Hernandez: We live and work in this industry so we know that the Grass Valley brand is synonymous with reliability and security. We don't want to undermine that. I think what you can expect is steady-as-she-goes reliable products first and foremost.
We understand that large media organisations are looking to innovate but also don't want to unduly risk or disrupt while they transition to digital workflows. We're going to put a greater emphasis on having a more intimate relationship with customers so we know exactly what they need in making these transitions. We are here for the long term and excited to reshape the industry over the next 12 months and beyond.
This interview has been edited for length and clarity