Gravity Media to decentralise its football production workflows after opening new Manchester facility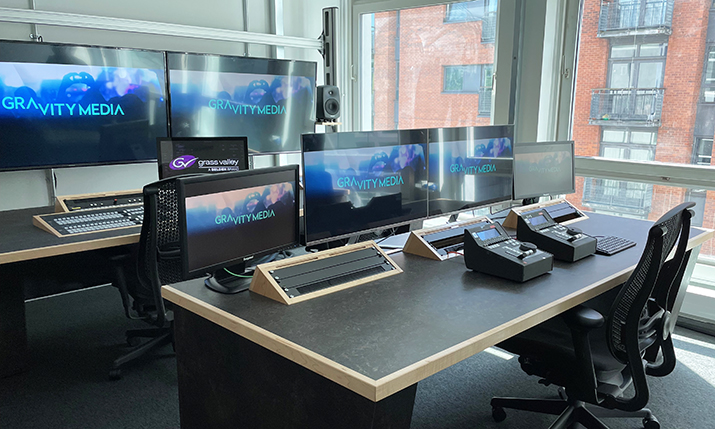 Gravity Media has opened a new production centre in Manchester, a move that will allow the company to adopt a decentralised remote workflow for its live football coverage.
The new facility includes two production control rooms, edit and audio suites, a production office, a technical area and what the company is calling 'multi-booths' that can be used for off-tube remote commentary. Importantly, it is connected to Gravity's London HQ in Chiswick by a dual 10 GbE 'pipe'.
Located in central Manchester, in what is known as the ABC Building on Quay Street, it replaces an older out of town facility and will make it possible for North of England based commentators and freelance operators to work locally in real-time on sports coverage being produced in London.
Speaking to SVG Europe, Gravity Media UK managing director Ed Tischler said: "We've had a presence in Manchester for several years now [but] this is an upgrade for our business in the North, not just from a production point of view but also in terms of expanding our rental business and growing our company outside of London."
When asked what prompted the move, he explained: "We want to keep expanding the remote workflows around sport. Federations want to make a lot more content of their own content [for example]. That is a huge opportunity."
Frank Callaghan, director of production and content, added: "We need facilities, first and foremost. Our production centre in Chiswick is busy all the time. We bring loads of freelancers from the North down to London. We have commentators who travel all the way down. So, having this facility allows us to cut a lot of that out and allow them to work on big match nights, for UEFA, on the FA Cup and on Women's football, because we're linked up to London. A lot of the stuff that we do requires galleries, it requires edits. And we need more [of both] to attract the local talent."
Although the Gravity Media Manchester production centre will be used primarily to facilitate the work that Gravity is doing as a production company, it also hopes to attract other clients to use the facilities in the future.
SVG Europe will be providing a more in-depth look at Gravity Media's new Manchester facility next week.