Guest Comment: Digital workflows – faster than live?
Forbidden pioneered professional cloud video workflows with the launch of its Forscene video platform at IBC2004. After over a decade of technical innovation and professional sales, the cloud is more relevant than ever writes Stephen B. Streater, Director of R&D, Forbidden Technologies.
In 2016, traditional broadcast TV was eclipsed by mobile internet in hours of video watched amongst the key younger demographics. That traditional bastion of broadcast TV, live content, has been protected by its low latency. Even here, technological advances in live digital viewing on mobile and web are challenging the dominance of broadcast, both of live streaming and most recently in high value edited highlights.
Old news is not news, so low latency is a fundamental value driver for digital rights holders.
Traditional internet information flows have multiple steps from a live SDI feed to a remote viewer. The viewer watching content over the internet can easily be a minute behind live.
Forbidden's unique cloud video platform cuts the delay between video coming in and edited video being viewed thousands of miles away to under ten seconds.
This is achieved by a revolutionary new workflow which leverages the existing live proxy workflows available in Forscene, and a new HTML5/JavaScript platform which removes the need to render edited content before viewing.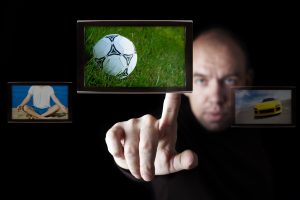 By cutting out multiple workflow delays, this new technology achieves speeds previously unseen in internet workflows. As distribution time is effectively zero, whatever the edited length and complexity, this workflow enables highlights of any complexity.
Of course, broadcasters already know that this is technically not faster than live, but where the broadcaster is using a profanity delay, or where comparison is with a typical 'live' HLS IP feed, it is indeed 'faster than live'.
For rights holders creating near live highlights of major sporting events, it achieves its major objective: significantly cutting the latency of viewing highlights from live feeds and therefore increasing the value of internet content.