Hamburg Freezers' power play with Blackmagic Design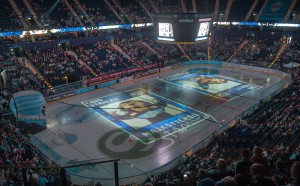 In the world of ice hockey, the relationship between the team and its fans in the stadium is critical. Even before the first face off, the atmosphere in the arena needs to be at fever pitch, and systems integrator elchmedia has achieved precisely that for Germany's Hamburg Freezers. In a first for arena installations, the firm has executed ice video projection of pre-match content with Blackmagic Design equipment, using the rink at Hamburg's O2 World Arena as a giant screen.
In order to use the ice to its fullest potential, elchmedia founder Jens Kelch developed an HD video playout and projection system with an SDI based video router from Blackmagic Design at its core.
Signals are played from two PC systems equipped with DeckLink Quad capture cards; one in SD to feed the central videocube, the other in HD (1920×1080) to feed four ice projectors. Split into four, the HD signals are fed into a software playout solution and synchronised with blackburst, where a blank video signal is generated. The signals are converted to SDI and then fed to the Compact Videohub. Synchronization is essential for a successful workflow.
"As well as the blackburst synchronisation, we use a Blackmagic Design UltraScope to keep the feeds monitored constantly. Just a fraction of a second in delay on one of the signals and the whole effect is destroyed," explains Kelch.
The router feeds each signal over optical fiber and Blackmagic Mini Converters SDI to Optical Fiber and Optical Fiber to SDI to the four projectors, resulting in a giant ice projection. "When the ice projection, the central videocube and stadium monitors are all showing the same content; no matter where fans are seated, the feeling is very immersive. Everywhere you look, you can't help but be swept along with the match build up."