Hunan TV rolls out China's first Dolby ATMOS equipped OB truck
As one of the largest television broadcasters in China, Hunan TV has set itself apart with a pioneering attitude and a string of ratings hits.
Building on its success, the station has launched the first Chinese OB truck capable of producing Dolby ATMOS 5.1.4 – with Genelec audio monitoring at its heart.
Chinese systems integrator NDT Group worked closely with Hunan TV's Senior Recording Engineer Long Hongliang on both the design and integration of the truck's audio systems. "This project represents a milestone for Hunan TV, as well as a significant step forward for Chinese broadcasting," Hongliang explains. "There could be no compromise on the equipment chosen – everything had to be the best."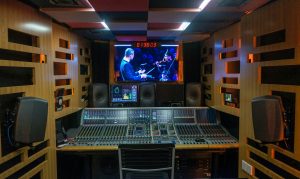 The interior of the vehicle is split into four distinct zones: the main mixing area, the broadcast area, equipment racks, and storage. The vehicle's constrained dimensions meant that optimal loudspeaker placements were simply not technically possible, particularly for the surround and height speakers. The lack of internal space also meant that it was unrealistic to apply any more than a limited amount of sound isolating treatment, and in its untreated form the vehicle suffered from an imbalance of midrange and low frequencies, leading to a somewhat 'boomy' sound.
To solve these problems, Hongliang turned to Genelec SAM monitors, which integrate tightly with GLM software to allow the entire monitoring system to be calibrated for an optimal listening environment. Occupying the LCR speaker positions are three 8351s, the largest of Genelec's The Ones series of three-way coaxial monitors.
They are joined in the left and right surround positions by two 8240 two-way monitors, while four compact 8320 two-way monitors are installed discreetly in the vehicle's ceiling – with an enclosure depth of less than 6 inches, these monitors are easily contained within the roof space.
Adding a solid LF foundation to the truck's immersive system are two Genelec 7260 SAM subwoofers. Crucially, via GLM, users can switch between monitor configurations and surround formats at the touch of a button – from simple stereo to surround and all the way up to ATMOS.
"I'm confident that the implementation of this Genelec monitoring solution and Dolby ATMOS within the new OB truck will prompt and inspire many more creative ideas within the Chinese broadcasting community," said Hongliang.
"It is a strong example of what we can achieve and it is already greatly adding to the quality and breadth of audio production within our television programming. Most of all it creates the opportunity for a wealth of new media content. The truck has already been employed on a number of major events and concerts, and we expect that it will participate in many more large-scale live production broadcasts in 2018 and beyond."