IABM research discovers tech ops skills gap within broadcast organisations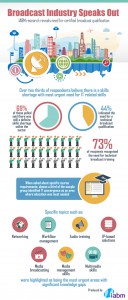 Research conducted by the IABM reveals there is a strong need within the broadcast and media technology industry for relevant training, with 69% of those polled saying there was still a definite skills shortage within the sector. Respondents were drawn from organisations within the industry and identified the main area of concern as stemming from the convergence of IT and broadcast. A further 44% indicated the need for a technical broadcast qualification.
Almost three quarters (73%) of recipients recognised the need for technical broadcast training and when asked about specific course requirements, almost a third of the sample group identified IT convergence as an area where education was most needed.
Specific topics such as networking, workflow management, audio training, the use and benefits of IP-based solutions for media broadcasting, media management skills, and multimedia skills were highlighted as being the most urgent areas with significant knowledge gaps.
Steve Warner, training manager, IABM said: "With the advancement of IT into the broadcast theatre the lines between the two arenas have blurred significantly. There is a wealth of talent in both industries but up until now there has been little crossover. The result is that there are broadcast engineers with no specialist IT skills, and likewise, IT engineers with little or no broadcast knowledge."
In response to the research findings, as well as feedback from its members, the IABM has designed and developed two new courses to meet the needs of the industry. Advanced Networking for Broadcast Engineers builds on the successful Network Essentials for Broadcast Engineers course and has a large practical component. It has been specifically designed to give delegates confidence in working with streaming video over IP networks.
The second course, Video Systems and Applications, is targeted at a wider audience of engineers in production, operations, technical support, engineering and IT, and was developed specifically based on demands from the industry. The course addresses current issues from a range of perspectives and follows the current course, Broadcast Technology Workflows – The Fundamentals.
In addition, the IABM is launching, in partnership with a well-established training provider, a series of non-technical courses aimed at developing soft skills, such as coaching, presenting and negotiating, using accelerated learning techniques. This supports the research results with a number of respondents identifying the need for these types of courses in addition to the technical options. "The research findings are definitely in line with the information and queries that we have been receiving from our members indicating that there is still a great requirement for training," says Warner.
"Bodies like the IABM can assist in bridging this skills gap and we will continue to work with our members and the industry in general to develop courses that target those areas of need," concludes Warner.