IBC 2018: Grass Valley reveals Core Technology platform, heads remote productions for IBCTV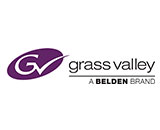 In a move designed to put customers firmly at the center of its innovation and product development, Grass Valley (stand #9.A01) announced the public debut of its new Core Technology initiative — a more agile, collective approach to R&D designed to produce greater quality and capability across the company's entire portfolio. In addition, IBC TV, the official television channel of the IBC Show (13-18 September, Amsterdam), has turned to Grass Valley to engage its nearly 60,000 attendees with captivating content, all powered by IP.
Core Technology
The Core Technology initiative allows Grass Valley to leverage its substantial R&D resources and continue to deliver the number one content and media technology solutions that enable its customers to survive and thrive in the dynamically evolving mediascape.
Michael Cronk, Grass Valley's VP of Core Technology, leads a team of some of the media industry's most experienced and respected engineers. Embracing the 'lean engineering' philosophy of high performing companies, such as Amazon, Google, Netflix, and Tesla, will enable Grass Valley to innovate faster, and at scale. This new agile R&D approach will deliver the common cores, platforms, engines, and interfaces that add exceptional value across Grass Valley's entire product range. The Core Technology initiative will set the direction for the Grass Valley portfolio and take a modern 'build once, integrate to many' approach in areas such as video processing, IP connectivity, cloud technologies, and software-defined solutions.
"Our customers need forward thinking technology partners to help them meet the challenges of creating and delivering live and immersive content to all platforms with flexible and efficient workflows. As an R&D powerhouse in the industry we are committed to be the partner of choice by staying ahead of the curve and innovating not only the solutions we bring to market, but the way we actually create them," says Cronk. "This is one of the key advantages customers get from working with us. Most suppliers in our business are unable to commit R&D resources to a program of this nature the way Grass Valley can."
The Core Technology initiative, which started its internal conception in 2016, will be part of the Grass Valley booth at IBC 2018, where it is being applied to multiple Grass Valley products, including iTX, GV Flex, and ICE. These market-leading implementations of common processing functionalities deliver unparalleled quality and capability with zero compromise on interoperability and reliability. Core Technology will be extended to more solutions across the Grass Valley portfolio in the coming months.
Remote Production of IBCTV
This year, IBC TV's aim is to showcase how a combination of the best expertise, skill sets, and the right tools can enable production teams to leverage IP to meet the need for flexible live productions. This year's live production workflow will be built on the latest SMPTE ST 2110 standard.
Grass Valley will enable IBC TV to deliver live news and interviews from the show floor to screens throughout the Amsterdam RAI Exhibition and Convention Centre, to the IBC TV website and to hotel rooms across Amsterdam. Live video feeds captured on Grass Valley LDX 86 series cameras will be transported from the conference venues and the exhibition areas over a connected fiber network to the dedicated production studio. With a direct IP interface from the camera base station, the cameras need no conversion gear to connect directly to the network switch. Grass Valley's GV Korona K-Frame V-series IP production switcher and multiviewer will also be deployed, offering unmatched performance and control that will reduce the complexity of production workloads, and provide the flexibility needed to turnaround live content and get it to air fast.
Built on SMPTE standards, Grass Valley IP solutions seamlessly integrate with other equipment that will be used by IBC TV. The live camera feeds will be passed into EVS' IP live production servers with feeds archived as centralized files to EVS' central storage system. The production team will then use EVS' content production and asset management systems.
"All broadcasters regardless of size, need flexible, agile infrastructures and workflows to meet the challenges of today's rapidly evolving media landscape," says Mark Hilton, vice president of live production, Grass Valley. "IBC TV is a perfect example of how even a single channel operation can leverage the benefits of IP. Grass Valley is the leading provider of standards-based IP systems, with more open-standard deployments than any other vendor. We are very proud to have been selected again this year to support IBC TV, which is such an integral part of the IBC show experience. Our LDX 86 cameras and GV Korona production switcher combined with EVS Technology's IP live production workflow will allow thousands of IBC-attendees to stay abreast of IBC news and interviews as they happen.'