IBC 2018: Harmonic puts focus on VOS 360 Video SaaS with new features, customer wins
This year at IBC, Harmonic (stand 1.B20) is putting its VOS 360 Video SaaS platform front and center with the announcement of new dynamic ad insertion (DAI) and disaster recovery features, as well as an integration with Verimatrix's new Viewthority content distribution platform. In addition,VOS 360 Video SaaS played a key role in the launch of a new new UHD HDR service featuring NASA content on Roku, as well as Indonesian mobile network operator Telkomsel's MAXstream OTT service during the 2018 FIFA World Cup in Russia.
New UHD Channel Featuring NASA Content and Powered by Harmonic Video SaaS Comes to the Roku Platform in High Dynamic Range
Harmonic announced that a new UHD service featuring NASA UHD content, remotely produced by Harmonic in cooperation with NASA, is now available in high dynamic range (HDR) on the Roku platform. Roku users with a 4K-capable streaming player or Roku TV can download the channel from the Roku channel store. The new UHD HDR channel is delivered over the top as an app utilizing a cloud-based end-to-end video streaming solution from Harmonic, Accedo, and CenturyLink. As the world's first 24/7 UHD HDR video streaming service, the channel will provide viewers with access to VOD and linear content for an amazing experience.
"From day one, our goal in partnering with Harmonic has been to collaborate on advancing technologies through which NASA can make its compelling footage of space, Earth, and the other planets available for OTT streaming," says Bryan Walls, deputy program manager of the NASA Imagery Experts Program at NASA. "Using NASA footage, Harmonic is able to deliver a selection of stunning NASA imagery directly to millions of viewers in beautiful UHD with the clarity and depth of HDR. For many, it will be the first UHD HDR content they'll experience in their homes; we're excited to work with Harmonic to make this beautiful and educational video content available to more of the people NASA serves."
Harmonic is providing its VOS360 Video SaaS, simplifying asset acquisition, channel origination, hosting and delivery for the UHD HDR channel featuring NASA content. With the Accedo One™ video experience platform, this UHD HDR video experience was created quickly with a highly immersive and yet simple-to-use interface. CenturyLink's global content delivery network (CDN) enables Harmonic to seamlessly deliver bandwidth-demanding media such as UHD HDR 60fps directly to end users in real time.
"Using NASA UHD content is a true demonstration of how Harmonic's VOS360 Video SaaS can accelerate the delivery of UHD HDR content by eliminating the significant costs and complexities normally associated with launching new premium services," says Tim Warren, senior vice president and chief technology officer, video business at Harmonic. "Being part of this groundbreaking project with our partners Accedo and CenturyLink helps us showcase the expanded color space offered by the HDR format from an intergalactic perspective, a feat that has never been achieved before."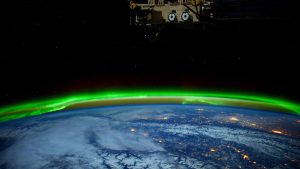 "Harmonic is delivering unique and compelling footage with this video service," says Fredrik Andersson, senior vice president of strategy and solutions at Accedo. "This service is a great example of how cooperation between cloud-first driven companies can accelerate innovation."
"The bandwidth required to deliver UHD HDR video content can create extreme challenges for global scale delivery," says Bill Wohnoutka, vice president of global internet and content delivery services at CenturyLink. "CenturyLink's CDN will enable Harmonic to seamlessly provide high-resolution content directly to end users on all seven continents for both on-demand and live video."
The new UHD HDR channel showcases the breathtaking beauty and grandeur of space using high-resolution images and video in HDR generated from the International Space Station and other current NASA missions. The channel includes a live stream and real-time views of Earth from the International Space Station, as well as remastered footage from historical missions.
Harmonic Unleashes Innovative New SaaS Features for Video Streaming and Broadcast Delivery
Alos, Harmonic announced the launch of dynamic ad insertion (DAI) capabilities and will provide a sneak peek of disruptive disaster recovery scenarios enabled by its VOS360 Video software-as-a-service (SaaS) as part of the company's continued commitment to SaaS innovation. With these advanced capabilities available in the cloud, VOS360 Video SaaS opens up new cost savings and monetization opportunities for content owners and video service providers.
"VOS360 Video SaaS is gaining tremendous momentum globally with new deployments for live and on-demand OTT channels," says Warren. "Beyond managing their end-to-end OTT workflow on the cloud, broadcasters, content owners and service providers can support an expanded range of business cases using SaaS, including dynamic ad insertion and disaster recovery. These new capabilities will help our customers get the most out of VOS360 Video SaaS to increase efficiencies and reduce capex."
VOS360 Video SaaS now enables operators to deliver advanced targeted advertisements and replace content during blackouts, increasing monetization for OTT content and improving the end-user experience. Content is replaced during blackouts based on end-user location and device, leveraging SCTE-224. This new Harmonic technology has already been successfully deployed by a major broadcaster in the U.S. for the insertion of unique station data for OTT rights management, blackouts, and local ad insertion.
In addition, Harmonic will preview how broadcasters, content owners and service providers can support disaster recovery scenarios with VOS360 Video SaaS by leveraging the public cloud. The SaaS approach is ideal for disaster recovery, because it combines the benefits of a resilient, elastic and secure cloud solution with a cost-effective, usage-based pricing model.
Harmonic Video SaaS Powers Telkomsel's New Mobile OTT Service
In addition, Harmonic announced that Telkomsel, Indonesia's most popular mobile network operator, is powering its new MAXstream OTT service using Harmonic's VOS360 Video SaaS. Harmonic's VOS360 solution provides exceptional scalability and flexibility for the operator, enabling the delivery of high-quality streaming content, including live sports events, to a rapidly growing subscriber base. During the 2018 premiere soccer tournament in Russia recently, VOS360 Video SaaS enabled Telkomsel to successfully serve 550,000 concurrent viewers and achieve excellent QoE.
"In the OTT environment, scalability is critical," says Crispin P. Tristram, head of digital lifestyle at Telkomsel. "VOS360 Video SaaS brings agility to our operations, making it possible to launch new channels in a matter of hours. Channel expansion is ongoing at Telkomsel, and we know that Harmonic's solution will continue to play a key role in helping us meet the growing demand for more video on every screen. Moreover, we now have live matches from the world's top leagues; we're hoping to continue with the success we achieved at the soccer tournament in Russia."
VOS360 Video SaaS is based on a pay-as-you-grow business model featuring built-in scalability and elasticity on public cloud infrastructure, making it easy for Telkomsel to add linear and VOD content to its MAXstream offering. Telkomsel is using Harmonic's EyeQ content-aware encoding technology with VOS360 Video SaaS to increase bandwidth efficiency while maintaining exceptional QoE during peaks in viewership. Harmonic's VOS360 Video SaaS is integrated with technology from Accedo, enabling Telkomsel to deliver live streams on iOS and Android apps.
"SaaS is the ideal business model for deploying OTT services. Nothing can beat its simplicity, flexibility and rapid-time-to-market approach," says Tony Berthaud, vice president of sales, APAC, at Harmonic. "We look forward to supporting Telkomsel as it adds more linear channels and extends its offering with SVOD and time-based VOD services. Being able to support the operator's increase in both subscribers and services is testament to the scalability that our VOS360 Video SaaS provides."
Harmonic Partners With Verimatrix to Revolutionize Content Distribution Efficiencies
Lastly, Harmonic announced a new partnership with Verimatrix, a specialist in securing and enhancing revenue for network-connected devices and services. Integration between Verimatrix's new Viewthority content distribution platform and Harmonic's VOS360 Video SaaS simplifies the delivery of live and VOD content, resulting in increased cost savings for video content and service providers.
"Around the world, content providers have a common goal: to maximize workflow efficiencies and reach more end-users," says Petr Peterka, chief technology officer at Verimatrix. "Harmonic's VOS360 solution is a world-class SaaS offering for media processing and delivery. This collaboration with Harmonic strengthens our ability to provide content owners and operators with a simple, reliable, and cloud-driven method of securely distributing high-quality video, ultimately enabling them to be more competitive and support new business models."
Viewthority is an innovative platform-as-a-service that offers enhanced and secure connectivity between content providers, video service operators and subscriber devices, streamlining end-to-end workflows and automating video analytics reporting. The integration with Harmonic's VOS360 Video SaaS optimizes media processing and delivery. Covering the entire media processing chain, from ingest to distribution, VOS360 Video SaaS brings increased scalability, efficiency, and flexibility to next-gen video workflows.
"The VOS360 solution is a best-in-its-class SaaS that is globally deployed by operators, trusted by numerous technology partners, and continuously updated with innovative features that drive operational efficiencies and monetization," says Warren "Harmonic's VOS360 Video SaaS is at the heart of a growing number of innovative new media processing and delivery platforms. This growing market adoption exemplifies the VOS360 offering's innate ability to adapt to any content workflow, as will be highlighted at the Harmonic stand during IBC2018."
Harmonic will showcase all of these products at IBC2018 from 14-18 Sept.