IBC 2018: Matrix Solutions, Imagine Communications demo end-to-end ad sales workflow
Matrix Solutions and Imagine Communications are demonstrating a tightly integrated, end-to-end ad sales workflow at IBC 2018 on Imagine Communications' stand (4.A01).  By uniting their front and back-office advertising solutions, the two companies will showcase a seamless workflow that enables media organizations to optimize ad sales.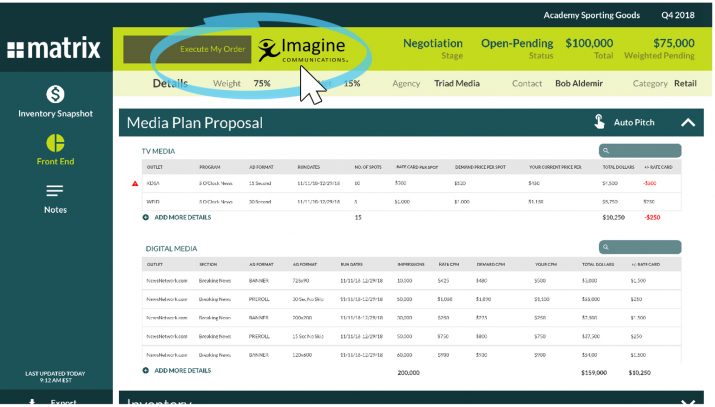 Matrix Solutions' media ad sales platform serves as a front engine to the ad sales workflow, both aggregating and normalizing disparate data sources throughout the enterprise and giving users a comprehensive view and real-time access to all of their ad sales data. Additionally, the platform provides robust CRM functionality, a full suite of media-specific sales management tools, and in-depth analytics — all designed to help media ad sales teams sell smarter and faster.
Operating as the back of the house in the ad sales workflow, Imagine Communications' extensive Ad Tech portfolio features inventory optimization and management systems, as well as next-generation targeted delivery solutions, which help broadcast, cable, and broadband companies optimize inventory value and drive ad spend across multichannel, multimarket operations.
By developing tight connections between their front and back-office workflows, Imagine Communications and Matrix Solutions will showcase an integrated solution that gets analytics into media sales teams' hands more quickly.  Accessing data earlier in the sales process optimizes media ad sales by improving operational efficiency and increasing revenue opportunities.
"We take pride in being able to offer our customers best-of-breed solutions, and this strategic partnership, both on and off the floor of IBC, is reflective of that on an International level," shares Mark Gorman, CEO, Matrix Solutions. "We, like Imagine Communications, are committed to and invested in advancing our integrations to produce seamless workflows."
"Imagine Communications brings world-leading optimization technology and enables automated workflows right across the ad sales and commercial operations process," says Graham Heap, Director Product Management, Global Sales, for Imagine Communications Ad Tech. "Our collaboration with Matrix Solutions will help extend those capabilities to the front-of-house activities and enable media companies to adopt a more data-driven sales strategy, which directly correlates to media companies increasing revenue."