IBC 2018: Mobile Viewpoint to introduce NewsPilot and IQ Sports Producer
At IBC Mobile Viewpoint (stand 14.F24) is planning the European launch of two new products, NewsPilot and IQ Sports Producer, using Artificial Intelligence to automate the low-cost delivery of content from remote locations.
NewsPilot and IQ Sports Producer enable smaller broadcasters and brand owners to reduce cost and complexity of live content production and delivery.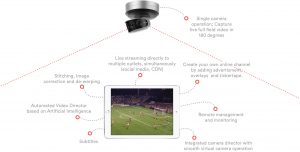 Consistent with Mobile Viewpoint's full solution portfolio, NewsPilot and IQ Sports Producer meet broadcasters' requirements for fast, simple and cost-efficient content contribution as they adapt their strategies to meet the rapid rise in online content consumption. AI capabilities help meet these goals more quickly, allowing broadcasters to automate production and save investment in costly camera crews, production facilities and distribution platforms.
NewsPilot can be used in studio environments or in the field to completely automate news production without the need for camera crew or a director. For example, smaller broadcasters or independent reporters and producers could use NewsPilot for live field news and event reporting, or in-studio news and interview production.
NewsPilot consists of three PTZ (pan/tilt/zoom) cameras and Mobile Viewpoint's Automated Studio control box, which incorporates Mobile Viewpoint's AutoPointer and Virtual Director software. It also includes CameraLink, a robotic arm which can move a 3kg PTZ camera much like a traditional dolly arrangement, offering the same camera control normally associated with high quality news productions.
IQ Sports Producer is an all-in-one production suite which can be used to produce and stream sports events from any location. It removes the requirement to install expensive camera and production facilities at sports grounds, and like NewsPilot, does not need dedicated camera crew or a director to operate. It is targeted at smaller and lower league sports clubs and teams who receive little regular TV coverage which might otherwise contribute important revenue opportunities, for example from fan and member subscriptions and local advertisers.
The main elements of IQ Sports Producer are a fixed-position 24MP 180° camera that can cover an entire field of play, a dedicated appliance with Mobile Viewpoint's AI engine and IQ Sport Producer Software, and connection to the LinkMatrix management dashboard (see above). Mobile Viewpoint's AI engine selects which of the camera's four 6MP lenses to use given the position of play during a match or game. The AI engine, originally used in the defence industry to track missiles, evolved first as a means to capture sport training sessions and is now used to track players, balls or other objects during a live match or game.