IBC 2018: Panasonic displays 4K 50P HDR and ENG cameras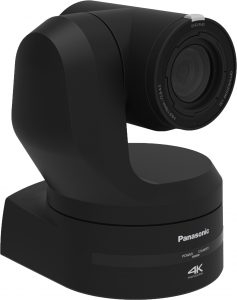 Panasonic (stand C45) has showcased its 4K 50p, HDR integrated PTZ camera for the first time in Europe, at IBC 2018 in Amsterdam. In addition, Pansonic introduced a new ENG camera offering greater connectivity, operability, and clarity
4K 50P HDR Camera
The AW-UE150 provides images with a smooth and natural look thanks to its 50p sensor, making it well suited to scenes featuring fast movements and high-end applications in broadcast, corporate, education, rental, and staging.
Integration is provided across a variety of 4K interfaces, including 12G-SDI, HDMI, Optical Fibre, and IP which supports HDR mode. In addition, the camera can simultaneously output both 4K and Full HD.
This new flag ship model is the first in its class to feature 4K 50p and a wide viewing angle of 75.1 degrees horizontally along with 20x optical zoom and 32x intelligent zoom(in HD mode). The camera allows up to three Full HD crops from the single 4K image canvas, this offers greater flexibility and, alongside its compact size, makes it ideal for more challenging camera locations.
Other features include a 1-type MOS sensor, large size tally, various optical stabilizers, and New Web UI support.
In addition to the release of the camera, the brand new AW-RP150 remote control unit was also on show offering a large LCD screen for monitoring and menu settings. The controller offers great usability and is single hand operable with a joystick in addition to traditional two hand operation that manages all control operations.
The controller is compatible with the UE150 as well as Panasonic's previous camera models. The RP150 also adds an SDI input to the LCD panel for control monitoring, and is capable of supporting up to 200 cameras in 20 groups.
"The UE150 is really the reference model within high-end PTZ products. It is quite unique and cutting edge. Its usability is the best on the market and it can control both the cameras and the crop feature, allowing users to manage several video feeds out of each camera," says Sivashankar Kuppusamy, Marketing Manager EMEA for Panasonic. "When combined with the new camera control unit we feel sure that operators will have a remote camera solution that gives them the best quality achievable in remote camera systems for all kind of markets from corporate installations to very demanding reality TV use."
The AW-UE150 and AW-RP150 are set for release in December 2018 at a price of €11,000 for AW-UE150 and €4,500 for AW-RP150.
ENG Camera
The AJ-PX5100 is a B4 shoulder mounted P2HD camera-recorder which upgrades the company's successful PX5000 series. With its breadth of recording options and exceptional image quality the PX5100 is targeted at network news, documentary, high-end corporate, and sports production, as well as the rental market.
Maintaining the same Full HD 2/3 type 3 MOS sensor in a lightweight 3.4kg body, the new camera also offers HDR(HLG)
content and 1080/50p recording for the first time in a Panasonic ENG camera.
In addition, Panasonic has improved the connectivity of the new camera with RTMP low-latency communication as a standard. It means the camera can deliver smooth streams and transmit information between the camera and news room more quickly than before, speeding up news workflows. The AJ-PX5100 also features wireless and wired connectivity with Wi-Fi, USB, and Gigabit Ethernet, as well as bonding with both the LiveU and TVU networks. The AJ-PX5100 also supports P2 Cast, Panasonic`s cloud-based news editing system.
The camera features a Quad HD LCD monitor for improved visibility and four times the number of pixels of standard definition monitors.
Stefan Hofmann, Sales Engineering Manager for the Professional Video Systems Business at Panasonic says, "Panasonic has a culture of kaizen engineering, which means relentless incremental improvement. For the AJ-PX5100, we have taken a very successful product and made it better, better usability, better images, and better workflows."