IBC 2018: Simplylive highlights new addition to ViBox series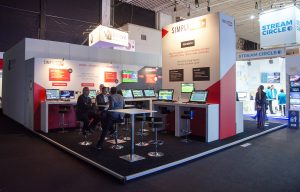 At this year's IBC Show and as a European premiere, Simplylive (stand B19) will show the new addition to their product family — the Vibox Mini versions. The Mini is the new compact and powerful member of the ViBox product family. The ViBox Mini offers all applications, such as the ViBox live production system, SloMo, Ref&Box, or BMR, available with 4 or 8 channels. This portable, high-quality solution makes it even easier to dip into live productions and especially in sports review.
With its small form-factor — less than 7 kg — and workflows and functions it is the only tool users need to produce cutting-edge content or review matches without thinking about the technology behind. Although defined by a small form-factor and significant cost advantages, ViBox Mini represents the high-quality and professional approach, typical of all Simplylive products. The combination makes ViBox Mini the perfect entry-level model for smaller companies, productions, or clubs.
The Ref&Box Mini is the ideal tool for referee review, coaching, or team analysis, medical review, and concussion protocols. All Ref&Box Mini products follow IFAB requirements for the VAR implementation. With its small form factor and reduced weight (less than 7 kg) Ref&Box Mini's portability is a great advantage for users to expand options beyond official review into coaching and video analysis applications.
See the possibilities of the ViBox Mini live at IBC Show (14 – 18 September)