IBC 2019: CyanView announces orders for mini-camera control system from Bexel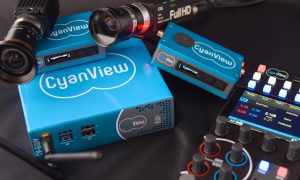 CyanView has announced today that it has received orders for its mini-camera control systems from Bexel, an NEP Broadcast Services Company.
Bexel is a provider of outsourced broadcast solutions and production equipment rentals for producers of sports, entertainment, and live events, and after successful inhouse testing, has already provided a number of CyanView kits to support broadcast coverage of several major sporting events across the US.
Bexel is making the kits available with flightcases ready for deployment anywhere.
"Bexel was looking for a solution that would enable their customers to control several cameras via a single, unified, user friendly workflow, and having scoured the market, they discovered that the only solution that met all their exacting criteria was CyanView's solution," said David Bourgeois, founder and CEO at CyanView. "A single CyanView RCP allows the control of multiple mini-cameras over IP, and gives the vision engineer the opportunity to control everything – iris, gain, black/white levels and so on – that he or she could control with direct access to the cameras. The vision engineer can even use our solution to ensure precise colour matching between cameras."
Based exclusively on IP technology, the CyanView Cy-Stem range comprises a Cy-RCP control panel and a series of small hardware modules that address several key areas in broadcast production. The systems acquired by Bexel also include the Cy-CiO PoE camera interface module. From a single IP connection, the Cy-CiO directly powers small cameras and controls them via RS232, RS422, RS485, LANC, TTL, DMX and more. In addition, the kit includes the Cy-GWY gateway which features the open Ember+ control protocol.
"We're continuing to develop and enhance our product range, adding new features and integrations, and that will enable Bexel to take advantage of exciting new functionality in the future," Bourgeois commented.
Added Howard Rosenthal, vice president of strategic accounts and global resources at NEP Group: "CyanView's solution was a perfect fit for NEP, filling an important gap in the market for vision engineers and solving many problems related to the use of multiple cameras of different brands in complex workflows. The fact that they're flexible, modular and easily upgradable will, we believe, make them a very sound investment."
Bourgeois continued: "This latest order further extends our relationship with NEP Group to the US. It's always particularly satisfying when an industry heavyweight like NEP Group recognises the unique value we bring, and how we can make the production of major events simpler, easier and more cost effective. It's a great feeling to know they're relying on us, and to get such positive feedback from them.
"The market for the control of mini-cameras is the most mature of the market segments we serve, with numerous deployments since we launched the company in 2015," added Bourgeois. "However, it's far from the only market we serve. We're also involved in many projects around the world that involve, for example, ENG or D-cinema cameras, and we continue to develop our rapidly-growing product range to serve these markets where there is a real demand that we believe we can uniquely respond to. And: we're ready to consider any custom requirement too."
CyanView is preparing for a busy IBC (Booth 10.D31) where the company will demonstrate its technology with various types of specialty cameras, and present its upcoming products, including a new cellular module that allows control and matching of cameras remotely.
The pre-production version of the module has already been used successfully on high profile racing and cycling events this summer, with RF cameras being controlled with almost no delays from helicopters, motorbikes and racing cars.