IBC announces shortlist for IBC 2018 Innovation Awards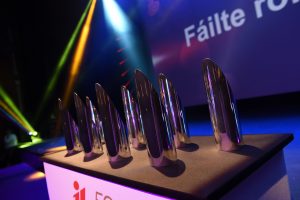 IBC 2018 has announced its shortlist for the IBC 2018 Innovation Awards, with finalists including Chinese broadcaster CCTV for its 4K Ultra HD live coverage of the Pyeongchang Winter Olympics. The three categories are designed to encompass the breadth of the industry, rewarding projects for content creation, content distribution and content everywhere.
The three Content Creation finalists are Chinese broadcaster CCTV for its networked 4K Ultra HD live coverage of the Pyeongchang Winter Olympics; Euronews and what it claims is the world's first 'glocal' news service; and Discovery and Eurosport for the Eurosport Cube, a live virtual reality studio that allowed experts to demonstrate the techniques on show at the Olympic Winter Games.
Four finalists have been identified in the Content Distribution category. Econet Media has developed a TV everywhere platform for Africa; Discovery and Eurosport worked with NEP to develop its Mediabank solution to manage assets and archives for coverage of the Olympic Winter Games; Vodafone has a new multi-national, cloud-based television distribution system which it is rolling out from Europe to New Zealand; and Medialaan in Belgium now offers subscribers the ability to watch programmes from the beginning, with the advertising adjusting itself automatically to ensure that the right messages are seen while the viewer gradually catches up with the live transmission.
"This year's finalists are really remarkable," said Michael Lumley, chair of the international judging panel. "We have live coverage from rally cars, a fantastic new way of immersing audiences in the thrills of winter sports, a highly productive way of creating news stories for multiple languages and cultures, a new initiative to bring OTT and mobile television to sub-Saharan Africa and a whole host more."
The final category is Content Everywhere. The three that made the shortlist are Irish broadcaster RTÉ with Saorview Connect, an advanced, connected, free-to-air television platform; global sports media specialist ESPN with Shortstop Live, a great way for journalists to get on air from their phones with the shortest of latencies; and WRC, the World Rally Championship, which now offers All Live, the chance to travel onboard with your favourite drivers, however long the stage.
Vijaya Cherian, editor of BroadcastPro ME, travelled from Dubai to take part in the judging process. "IBC is the one global meeting place for our industry," she said. "The remarkable spread of finalists for the awards this year reflects that international viewpoint. I look forward to meeting all the finalists, and hearing the winners announced on Sunday night at IBC."
The winners will be revealed at the IBC 2018 Awards Ceremony at 18:30 on Sunday 16 September. The ceremony – which also features other awards including the International Honour for Excellence – is free for all IBC visitors.