IBC IP Showcase: AELTC and Euro Media Group on the future of IP in sports broadcasting
At IBC, SVG's Ken Kerschbaumer moderated a conversation on the future of IP in sport with All England Lawn Tennis Club (AELTC) broadcast technical manager Tom Giles and Euro Media Group (EMG) chief technology officer Ronald Meyvisch.
The session, titled 'IP and Sports Production: Winning Ways', was part of the IP Showcase in Amsterdam. The group talked about how IP is impacting sports production, first by looking at AELTC's new role at its home at Wimbledon as host broadcaster, which it took over from the BBC after its 90 year reign this year, and then onto EMG's OBjective 2020 project.
Working with IP before 2110
From 4K and HDR to high frame rates, Giles stated that the team at AELTC knew IP was going to be a significant part of the refurbishment of its resources at Wimbledon. Wimbledon Broadcast Services (WBC) launched this year, the first time the AELTC managed the Championships as host broadcaster, yet the preparation began when Giles came on board in 2016. He commented that IP then was not quite ready for what AELTC needed to do: "At that point it was just IP, so when we started this project 2110 wasn't really on the radar," he said. AELTC went with NEP UK to take the project forward.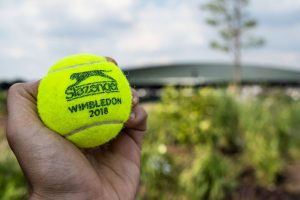 "You have to trust the people involved in these projects; if they're saying they can do it, you have to let them. I feel you always need these spikes of technology changes, as it focuses everybody's attention, and that's part of the journey as much as anything else," Giles said.
He added that a significant consideration in the project to take over the host broadcaster services was that for broadcasters and rights holders coming into work at the venue, the workflow needed to seem a familiar as possible. "If you're an operator there cannot be any difference in the way [the workflow] works, or it's a step backwards. The core has to be able to deliver what people are used to," he said.
The nail-biting moment this year, Giles noted, was the first day of the Championships, where the system went into full use. However, thanks to NEP and its development of the system architecture, it all went smoothly bar a few small tweaks.
Taking OBs forward with IP
Meyvisch then began his conversation with Kerschbaumer about OBjective 2020. Commented Meyvisch: "We are making the way we work modular. It's a distributed architecture, and you can scale it up or down as needed."
He said that if IP is going to bring something valuable to sports broadcast, it should be ease of use through simple connectivity; users should just be able to connect one system or device to another. "That's where we started," he said, on the premise behind OBjective 2020.
"Redundancy is changing dramatically with IP," Meyvisch went on. "You used to bring two OB trucks [to an event] so if one fails, you have the other, but you don't need to do that now. With IP, the only thing that can go wrong is if the whole site burns down."
EMG's roadmap is to have two IP-based trucks using its modular system built by the second quarter of 2019. "These will look like a room with very little technology in it, that comes with an external mobile data centre," Meyvisch said.
Finding a box that works
The group went on to discuss the convergence of the sports broadcast industry with that of IT. Meyvisch commented that the sports broadcast industry has certain requirements for kit, and that the IT industry is not necessarily making it easy for this industry to get what it needs in terms of IP equipment. "We're still a very specific industry with very specific needs, and as such the IT industry is not taking us seriously," he said.
"Will we adapt to the IT industry? Will we get specific software products developed to our needs? It's great to have the OBjective 2020 vision, but it's back to reality; we need a box that works," Meyvisch concluded.