IHF Handball World finals covered with 20 channel videoReferee system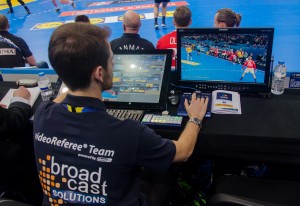 The IHF Men's Handball World Championships in France was one of the best covered handball tournaments ever. During the competition videoReferee was the overall video judging system and used at all venues. The last four games including the final match were covered with a 20 channel videoReferee system, giving the referees more viewing angles than ever before.
The videoReferee had access to eight signals from system-specific cameras located directly at the field and in the goals. Since the host broadcaster during the finals used more cameras than originally planned (including a flying camera), it was self-evident for the videoReferee team to make these additional signals accessible to the referees for judging purposes. To fulfil this goal the number of camera signals retrieved from the OB Van was increased to 12 signals.
Ramon Gallego, member of PRC responsible of Video Referee System during the IHF World Championships said, "we are very satisfied with the use of the videoReferee system during the IHF 2017 World Championships in France. The system was used to clarify dubious scenes more than 20 times and worked very reliably. For the IHF the use of videoReferee was very important to help the referees and to ensure a fair competition. We are ready to listen to Broadcast Solutions' proposals to improve our work."
Lars Geipel, referee at the IHF World Championships said, "the video assistant referee is a great help for the referees. Any technical support that helps the referees to make the right decision in critical moments of a game is a good thing. We support the project. It is important, however, to use the video assistant referee not inflationary, but only in a few, very decisive situations. "