Il Giro d'Italia: There's an app for that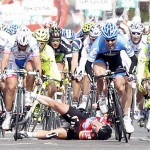 The world famous Italian bicycle race "Il Giro d'Italia" 2012 edition began this past week in Denmark (!) and will conclude on May 27. For the millions of fans around the world there are several ways to follow it, including an iOS application, another one for the Android platform, and streaming live on the Web. During the day the race started, even the Apple Store devoted some room to the event, creating a "Giro d'Italia 2012" section within the Italian version of the online Apple Store.
The app includes data from the race as well as live updates of "the race during the race" and all graphics are updated regularly for every rider. Early reviews of the app are positive.
For those who don't own an iPhone or Android phone there is the Internet as the Gazzetta dello Sport Web site, has a special section with data and videos.