Imagine adds Plan TV and Monetize TV options to new Aviator platform
Imagine Communications is continuing with the rollout of its Imagine Aviator platform with the addition of Plan TV and Monetize TV to enable media companies to extract the maximum revenue potential from their assets.
Imagine described Aviator as the first truly cloud-native platform that enables broadcasters, MVPDs and digital-first providers to easily plan, make and monetise premium-quality, ad-supported linear and connected TV (CTV) content from a single, unified platform.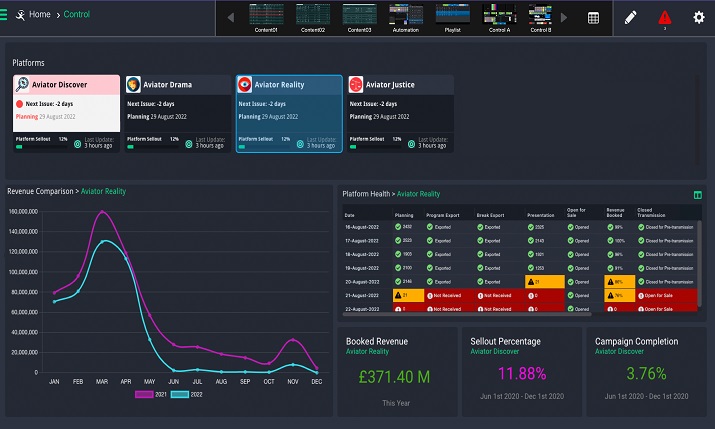 By tightly integrating all the critical capabilities of scheduling, playout and ad management, Aviator enables media companies to efficiently launch new linear channels and achieve faster time to revenue for emerging services such as pop-up and FAST channels.
"When we introduced Aviator earlier this year, we committed to continue rolling out platform functionality on an aggressive roadmap schedule — and with this exciting IBC launch, we are delivering on that promise to the market," said Rob Malcolm, chief product officer at Imagine Communications.
"Our ability to draw on Imagine's industry-leading knowledge of both playout and ad monetization allows us to accelerate development of open systems that help our customers more quickly achieve their revenue and operational targets."
At the platform's NAB Show launch, Imagine delivered Aviator Make TV, which includes all the capabilities required to deliver premium-quality, sophisticated linear channels with unified origination for broadcast and digital streams.
The company's latest milestone delivers Plan TV, which adds planning, content rights management and scheduling for linear channels, on-demand and CTV delivery; and Monetize TV, which adds unified sales, traffic, ad decisioning, optimisation and billing — enabling media companies to strategically drive ad revenue growth and streamline operations across linear, VOD and CTV content.
Plan TV enables media companies to manage linear and on-demand rights and scheduling from a single, unified system. While other available solutions offer scheduling applications, they are typically unsuited to sophisticated use cases, or must integrate with a third-party solution.
The Plan TV solution features a comprehensive scheduling engine that provides the tools to create single or multichannel schedules, combining program content and advertisements into a single, frame-accurate playlist. This enables media companies to get the most from their programming assets — enabling an optimal schedule to reach target audiences and maximize profits.
Monetize TV combines cross-platform ad sales, ad placement, ad serving, campaign management, and more into a single cloud solution. Automated tools for ratings prediction, spot booking, copy allocation, sequencing and as-run reconciliation enhance operational efficiency and optimize ad placement.
While other available solutions can spin up channels in the cloud, the Aviator platform is uniquely capable of properly monetizing these services with support for multiple selling models including spot, impression, audience and addressable models with ad decision optimization options including one-time, dynamic or real time.
Monetize TV integrates with Make TV in a converged solution that delivers linear programming and on-demand content with ads and triggers for local and dynamic ad insertion — making it easier for media companies to successfully monetize broadcast, CTV, FAST, pop-up and VOD content.
Imagine also recently launched SureFire, a video ad server which has been pre-integrated with the Monetize TV suite via open APIs to bring broadcast-quality digital ad decisioning to the end-to-end Aviator platform.
SureFire provides linear-like control and brand protection on OTT and CTV platforms, enabling media companies to sell and fulfill converged campaigns across their entire audience and deliver a consistent, quality experience for both viewers and advertisers. It also enables media companies to tap a rapidly growing business model, providing a turnkey solution for quickly spinning up and monetizing FAST channels.
"The term 'end-to-end' has long been over-used in our industry," Malcolm adds. "Other companies can provide converged solutions for broadcast and digital — but only for specific parts of the workflow, such as ad management or encoding. Imagine is uniquely positioned to draw on our industry-leading knowledge of contribution, playout, monetization and distribution to develop open systems that enable our customers to maximize revenue from their media assets without the cost and complexity of multiple disparate platforms."