IMG opens up new broadcast potential for golf with dynamic remote productions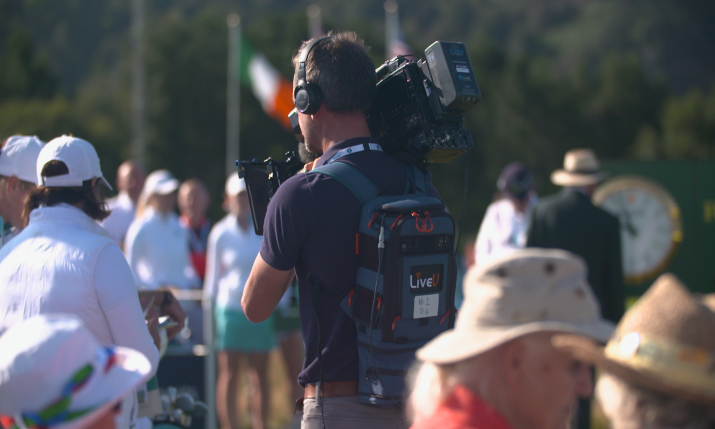 By Malcolm Harland, UK Country Manager, LiveU
Golf's popularity around the world is clear to see even for those who have no interest in sport. This is not only from a watching perspective, but also a playing perspective, with a huge amateur scene and an unusually close relationship between the amateur and professional worlds.
Recently, IMG used LiveU's live streaming and remote production (REMI) solutions to bring dynamic high quality live event coverage of the R&A's 118th Amateur Women's championship and then the 126th Amateur Championship (Men) to viewers around the world. It was the first time these events have been covered live.
Following those successes, IMG then deployed a larger LiveU-led production for live broadcast coverage of all three days of the 41st Curtis Cup, the best-known team trophy for women amateur golfers. Co-organised by the R&A and United States Golf Association, the biennial event sees a team of eight amateurs from the US compete against a team from Great Britain and Ireland. Held in Conwy Golf Club in North Wales from August 26 to 28, IMG used the LiveU-led workflow to remotely produce more than 25 hours of captivating coverage, which was broadcast live on Sky Sports Golf, Sky Sports Mix and NBC's Golf Channel.
Formed on the golf course
The R&A – the home of golf, based in St Andrews, Scotland – engages in and supports activities undertaken for the benefit of the sport of golf. It organises one of the four major golf tournaments – The Open – and together with the USGA, it governs the sport of golf worldwide. IMG was formed on the golf course back in 1960 with Mark McCormack starting the company in a handshake deal with legendary American golfer Arnold Palmer.
IMG has a longstanding relationship with the R&A, including a history of making same day highlights packages for the Women's and Men's Amateur Championships and providing the live feed for international broadcasters. Despite their huge popularity, going live from these tournaments hasn't been commercially attractive for the R&A because of production costs.
However, LiveU opens up new possibilities, making live production of the events a reality, because of the technological flexibility, reliability and cost-effectiveness. Using LiveU, action is brought to the fans, enabling them to follow the players close-up around the course.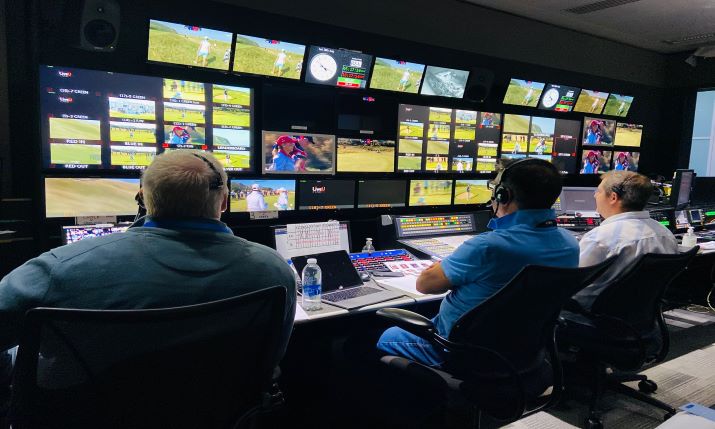 Both the 2021 championships were held in Scotland – the 118th Amateur Women's championship and the 126th Amateur Championship (Men). The former took place early June at the Kilmarnock (Brasserie) links course while the men's competition was held later the same month at Nairn golf course.
Tom Giles, director of engineering at IMG Studios, explained: "We already had LiveU units, which are used for Premier League sports news coverage – interviews and live crossovers – and we are quite familiar with the technology, as well as its management platform LiveU Central, but this was our first multi-camera, full production, taking advantage of remote production. Clearly, covering golf live from a course is a very different set of circumstances from doing interviews. We ran the units for 10 hours per day with five units for each event." IMG used a combination of flagship, multi-camera LU800s and other LiveU units around the courses. Prior to both events, Giles spent a day at each course, scoping them out. He added:
"LiveU also has a lot of information about the networks, tower placement and the coverage that they offer. They have a huge database and that's very helpful. That's information that we need but we also have to do our own due diligence. To know the course and the connectivity allows for the best content creation."
These two events were complete remote productions, produced from IMG Studios at Stockley Park. Signals from the units were received by a LiveU server in a rack room. Those feeds were then played into an EVS with graphics, audio and switching all handled remotely. It was streamed by the R&A across its digital platforms, with additional commercialisation possible via other broadcasters taking the coverage. The pioneering production was a resounding success.
Dramatic upscale
Could the same innovative production model be used to create linear broadcast coverage of the Curtis Cup for Sky Sports and NBC's Golf Channel just two months later? Three questions needed answering: would it be possible to upscale dramatically from five to 12 cameras?; was it feasible to scale up from single-day coverage to the three days of the whole Curtis Cup competition?; and could we successfully make the move from digital to a linear broadcast?
The R&A was prepared for IMG and LiveU to take on the challenge. With the coverage from the Amateur Championships as an example of the high production standards attainable, Sky and NBC gave their go-ahead, too.
Led by Giles and production manager Emma Booth, IMG's on-site team collaborated with staff from LiveU, Prolink and the R&A events team to ensure everything was in place at Conwy Golf Club. Each of the 12 camera operators would use a LiveU field unit, transmitting premium quality video over cellular. A point-to-point Wi-Fi 'mesh' system was built to offer signal support and redundancy. Following countless checks, everyone was ready to go live.
Meanwhile, 250 miles away in a gallery at IMG Studios, the 17-strong production team led by production executive Nikki Payne, producer Ross Clarke and director Simon Wheeler, received the 12 camera feeds from the course three seconds later and followed a very similar workflow as that used for the earlier Amateur Championships.
Once again, LiveU's multi-camera LU800s were used. Over the next three days, the team produced more than 25 hours of captivating coverage. The commentary team of Dougie Donnelly, Richard Kaufman and Beth Allen expertly guided viewers and added their insight from Stockley Park. An onscreen team of Sophie Walker and George Harper Jnr brought audiences closer to the action on-site from the course.
Tim Lacy, VP, IMG Productions, said: "The coverage was a resounding success. A case study in collaboration, innovation and bravely pushing broadcast boundaries, we're immensely proud of the production. To us, it was groundbreaking; not just in what it achieved, but what it makes possible. Our coverage of the 2021 Women's and Men's Amateur Championships knocked on the door of a new, cost-effective and sustainable live production model in golf. The production of the Curtis Cup pushed this door wide open. And with 5G on the horizon too, its success creates opportunities for further sports competitions, both on the golf course and beyond across other sports too, raising their profiles and bringing live coverage to fans around the world, in some cases, for the very first time."
The financial advantages – especially removing the OB truck from the equation – are very significant. Then there's the mobility IP-bonding provides. LiveU's inherent reliability, and the flexibility for IMG to adapt units to changing and challenging conditions, which they very much experienced at the Amateur Men's event, means they can create more dynamic content from more locations more of the time.
Lacy concluded: "Our work on these two tournaments proves this. The R&A is over the moon with the quality of the live coverage. They see how they can achieve a lot more for a lot less and can engage their existing audience – and expand it too – via this live coverage."