In pictures: OB firms provide coverage of Queen's London funeral procession
Following the death of Queen Elizabeth II at her Balmoral, Scotland residence, broadcasters and their outside broadcast and production services partners from the UK enacted well-rehearsed plans as part of Operation Unicorn – the plan for handling the Queen's death in Scotland – and Operation London Bridge, the code name given to the Queen's broader funeral arrangements.
Teams were swiftly assembled, OB trucks convened, hundreds of cameras rigged and miles of cable pulled to support the many hours of live coverage.
This included on Wednesday 14th, the procession of the Queen's coffin from Buckingham Palace to Westminster Hall to lie in state. On Monday 19th, the Queen's funeral will take place with broadcasters in the UK and around the world set to broadcast the event (Photos: Steve Challes).
After the Queen's coffin was moved from Scotland to London, it was transported to Buckingham Palace.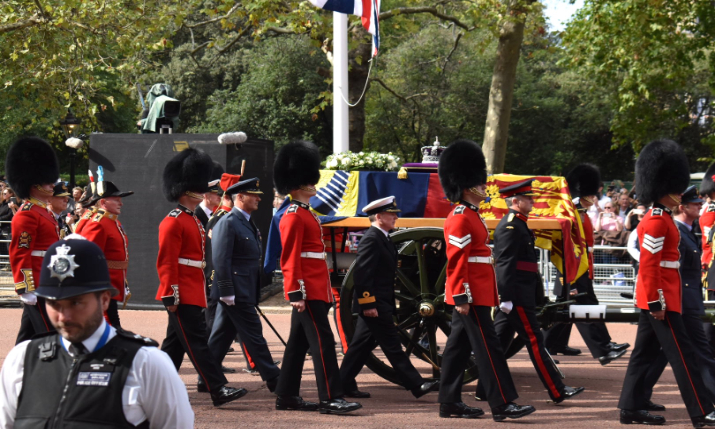 Cameras along the Mall, including this EMG position (pictured above and below), shot footage of the procession of the Queen's coffin as it travelled from Buckingham Palace.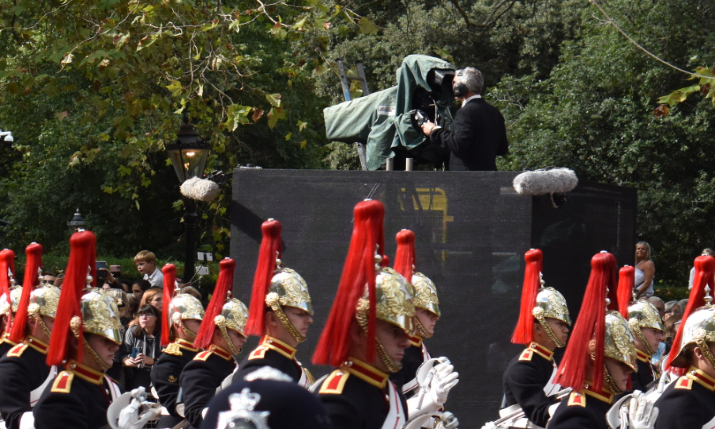 Pictured below, a remotely operated Camera Corps Sony HDC-P50 positioned in the archway of Horse Guards, between Whitehall and Horse Guards Parade, captured an iconic shot of the Queen's coffin and procession passing through the archway.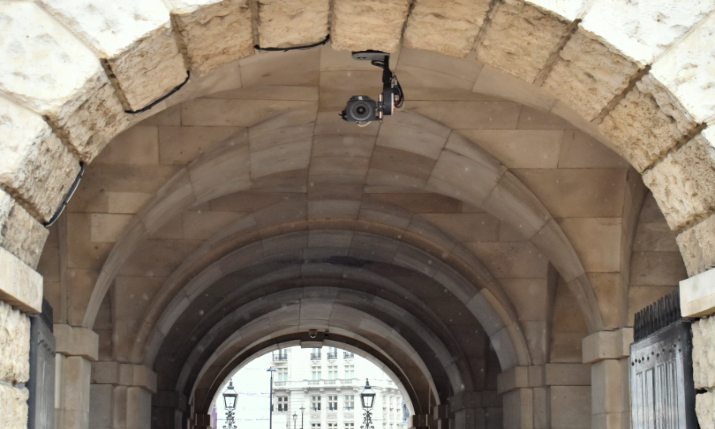 Also below, Film and TV Services and Timeline outside broadcast units positioned just off Whitehall at the Ministry of Defence.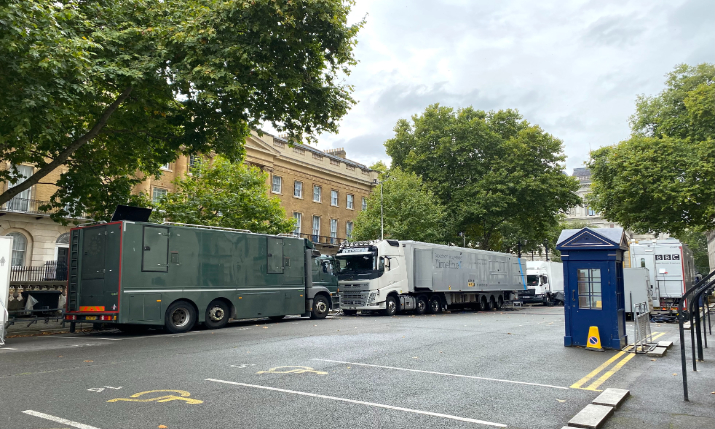 Below, a Televideo camera being rigged in position along the Mall.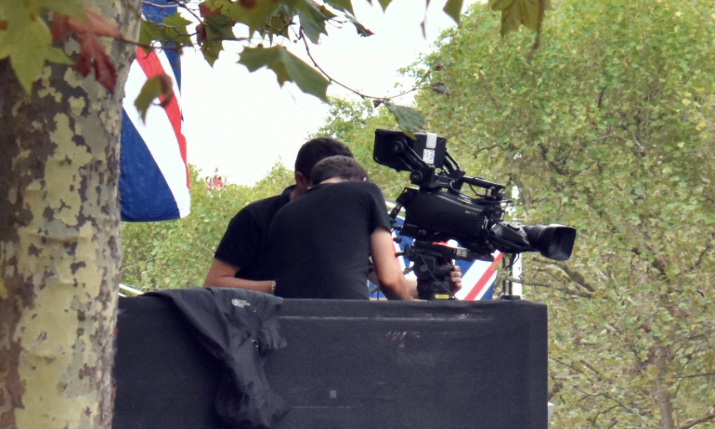 Hoists with EMG and Televideo cameras at the Admiralty Arch end of the Mall, where they covered the procession of the Queen's coffin to lying-in-state.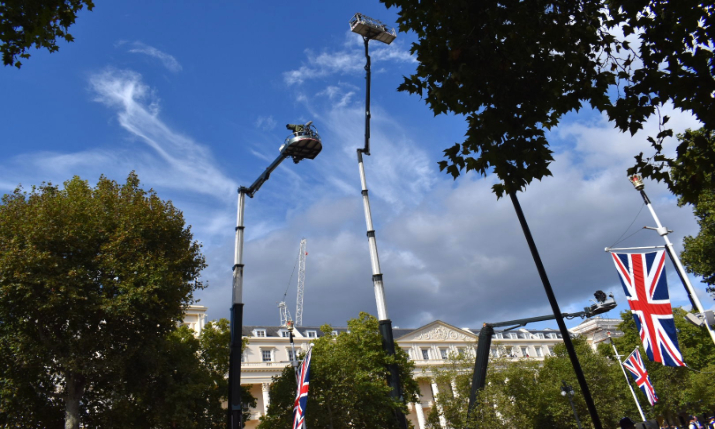 Another view of the hoists at Admiralty Arch, below.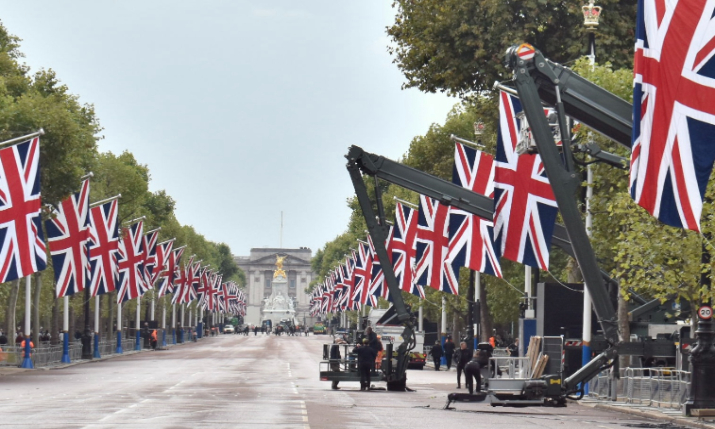 With UK broadcasters clearing their schedules to provide viewers with hours of live coverage of proceedings, a raft of outside broadcast companies are involved in the operation. Pictured below is the OB compound at Canada Gate, with EMG, NEP Belgium and Timeline units in attendance.
Amid global interest, broadcasters from around the world have descended on the UK's capital with many positioned in a media village at Canada Gate, in front of Buckingham Palace.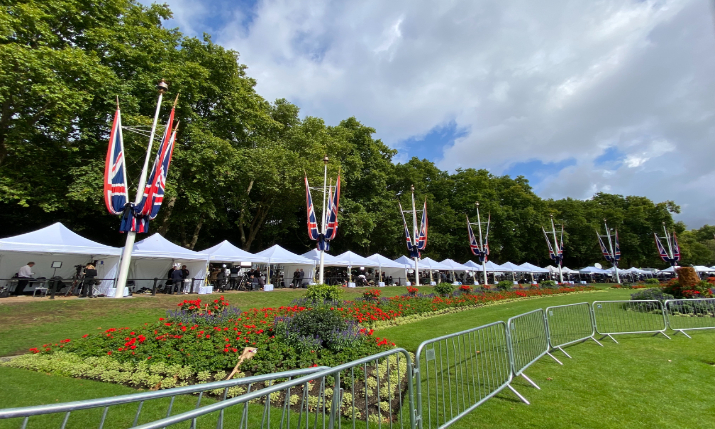 Also at Canada Gate, the BBC (left) and Sky News (right) have erected studios that provide viewers with a backdrop of Buckingham Palace.

All photos: Steve Challes