Inaugural SVG Soccer Summit Americas to be held on 21 August in Miami
SVG is proud to announce the launch of the SVG Soccer Summit Americas, which will be held in Miami at Mediapro's Production facility on 21 August. The event will bring together leading football production professionals from across North and Latin America for a day of education, networking, and informative presentations about how broadcasters, leagues, teams, and federations tackle the challenge of producing high-quality coverage.
"The love of soccer is a unifying element for sports fans around the globe, and we're excited to bring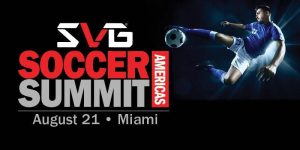 together thought leaders from different parts of the Americas to share their unique philosophies when it comes to soccer production," said Ken Kerschbaumer, co-executive director, editorial services, SVG. "And Miami is the perfect location: its spirit and energy embrace the best of what North and Latin America have to offer."
Topics on the agenda:
Soccer Americas State of the Game: What's Hot, What's Not?
Soccer's AR and Virtual Advertising Future
Automated Workflows and Artificial Intelligence
Keynote Conversation: Inside LaLiga's North American Ambitions
Inside the 2019 FIFA Women's World Cup and CONCACAF's Gold Cup
Developing an OTT Strategy
CLICK HERE for more information, including the full programme and sponsorship opportunities (coming soon). CLICK HERE to register for the event.
Please note that the event is open to SVG members and sponsors only. If you are not an SVG member, registering for this event will automatically activate your SVG membership for all future events.