Infront trials 'virtual atmosphere' during Coppa Italia final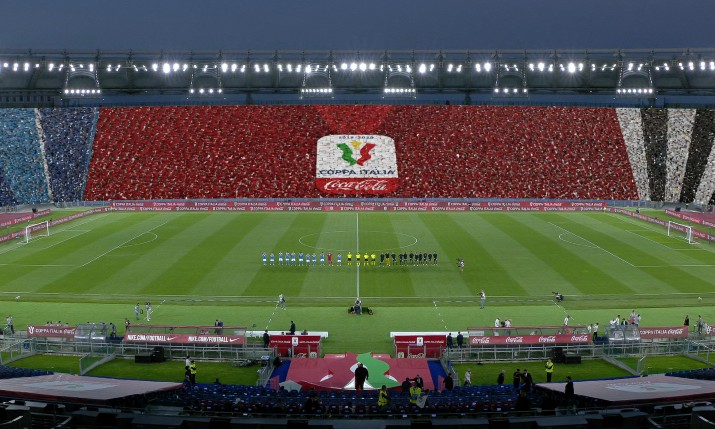 Infront Sports and Media used last week's Coppa Italia Final to pilot what the company is calling 'virtual atmosphere', a service that uses Vizrt technology to fill empty football stadium stands with simulated fans, colours and logos.
Napoli picked up the trophy on 17 June with victory over Juventus following a penalty shoot-out but as the game was played behind closed doors, without supporters in the ground, Infront's world feed coverage provided TV viewers with a backdrop that was decorated with the two clubs' colours, the competition logo and the Italian flag.
Massimo Magrì, Infront's head of virtual advertising, writing on the Infront blog, says the service works as both a marketing tool and as a new way to engage with fans at home.
"We replaced empty stands with an animated choreography of supporters," he explained. "You don't see people's faces, you see them holding cards to create a collective image. We had a playlist — club logos and colours, the Italian flag, and sponsors. From a creative standpoint, it will be a "learning by doing" process. There will be an evolution in the next few months, and that will also reflect supporters' reactions to, and appreciation of, the technology."
Magrì says it is possible to display a number of different things on the virtual backdrop, not just virtual supporters. He cites the examples of "texture, a static image, an animation or something interactive." It is also possible to social media feeds or even stream a Zoom call featuring supporters.
The service uses Vizrt's Viz Eclipse technology for the overlays.
"This will be a good test in terms of how far virtual overlay can be used as a marketing tool and how far it can be used as a communications tool," concluded Magrì.
"There is obviously room to monetise it, but we don't just see this as a monetisation tool. It could be a blend — sponsor logos followed by an institutional message, for example. It's a huge area which we can use to create a new way to interact with the audience at home – branding, institutional messaging, live statistics and social network feeds."